Ecofest - Times Square
Add to Calendar

25-08-2013

25-08-2013

15

Ecofest

ECOFEST celebrates its 25th anniversary in Times Square, featuring performances by environmental magician, The Amazing Ken, and Pete Seeger's award winning Rivertown Kids. There will be a childern's art exhibit, face painting, a 10 foot snowman, environmental crafts for kids, Tibetan Sand Mandala, and Recycling Olympics. For more information, to exhibit, or to volunteer call 212-496-2030 or visit ecofest.com. http://www.nymetroparents.com/2014neweventinfo.cfm?id=142380

Times Square

true

DD/MM/YYYY
This event has already taken place. Click here for the latest events.
Date: August 25, 2013
Hours: 10am-6pm
Cost: FREE
Ages: All Ages
Address:
Broadway, between 45th and 47th Streets
Times Square, NY 10034

Phone: 212-496-2030
Website: ecofest.org
ECOFEST celebrates its 25th anniversary in Times Square, featuring performances by environmental magician, The Amazing Ken, and Pete Seeger's award winning Rivertown Kids. There will be a childern's art exhibit, face painting, a 10 foot snowman, environmental crafts for kids, Tibetan Sand Mandala, and Recycling Olympics. For more information, to exhibit, or to volunteer call 212-496-2030 or visit ecofest.com.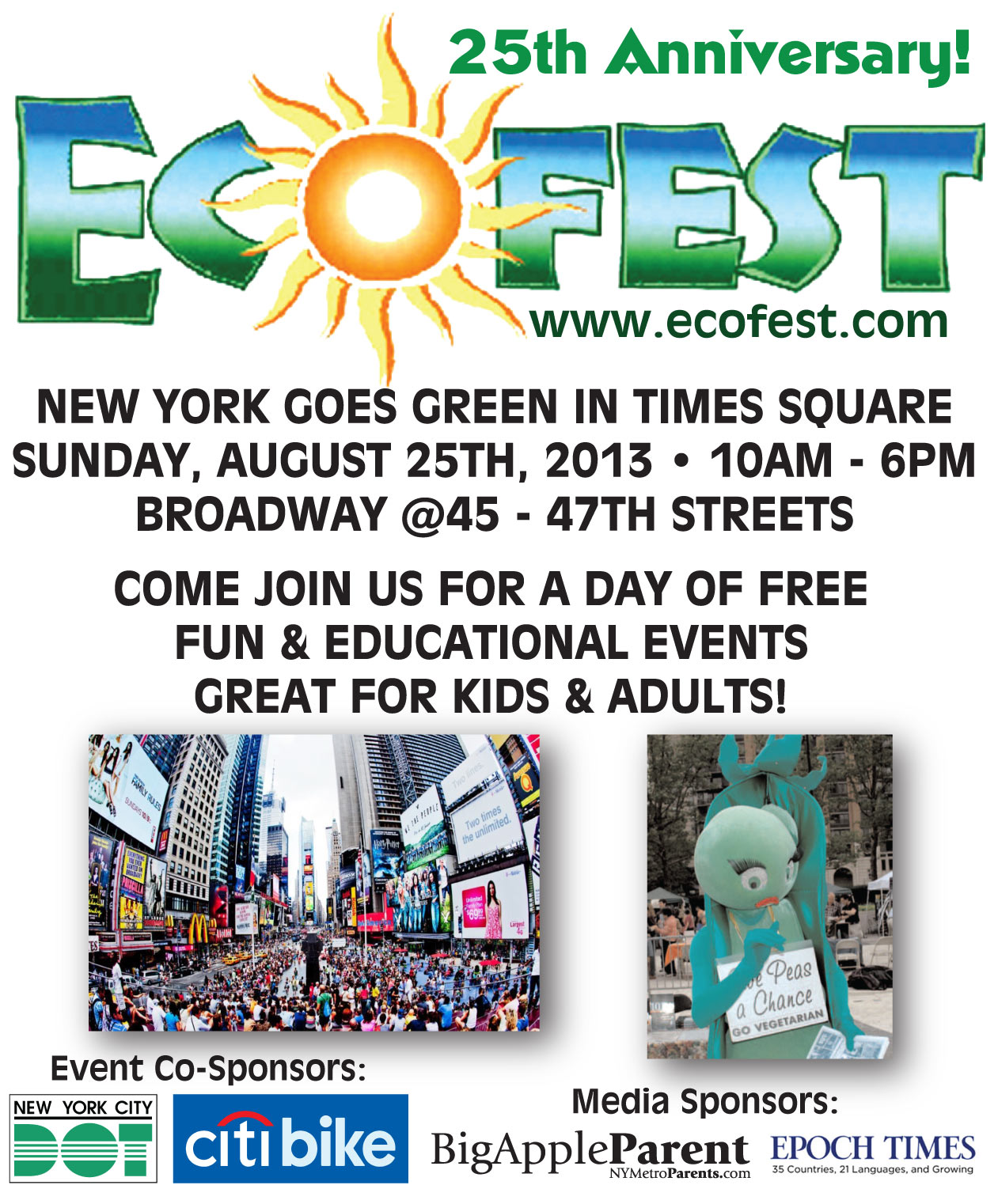 Venue Description: Times Square is a major intersection at the heart of midtown Manhattan, found between Broadway and 7th Avenue, stretching from 42nd Street to 47th Street. Known as ?the crossroads of the world,? this junction is a world landmark and icon of New York City. Formerly named Longacre Square, the southeast intersection of the square is part of what was once known as Lincoln Highway, the first road across the United States. The area was renamed Times Square in 1904, and the first sign was lit there three weeks later. As one of the most concentrated and vivid markets in the world, Times Square boasts colossal, illuminated billboards. These advertisements are called Spectaculars, and the largest of their kind are known as JumboTrons. Times Square now rivals Las Vegas, since advertisers are required to include movement and light on their boards. Notable billboards include the seven-story curved NASDAQ sign, installed in 2000. In October 2006, News Corp. took over the Panasonic Astro Vision screen in the middle of Times Square and began airing the Fox News Channel. Times Square is perhaps most famous for its New Year?s Eve ball drop, which began in 1907. Since then, the event has attracted hundred of thousands of people to the site every year to ring in the New Year. A new energy-efficient LED ball was introduced on the eve of 2009. The most famous storefronts in the square include Toy?s ?R? Us, Hershey?s, M&M?s, Bubba Gump Shrimp Company, and Planet Hollywood. Also located there are ABC?s Times Square Studios, MTV?s studios, and the site of Good Morning America?s live broadcast. TKTS offers tickets for Broadway and off-Broadway shows at a 25-50 percent discount. Times Square is an iconic part of the Big Apple.
This event has already taken place. Click here for the latest events.
Please let them know you saw this event
in NY Metro Parents!
GET MORE INFO ON THIS LISTING
Be a good fellow parent and share this with a friend who would be interested