A child development expert shares a few simple do's and don'ts that will help make your child's first day of kindergarten a success.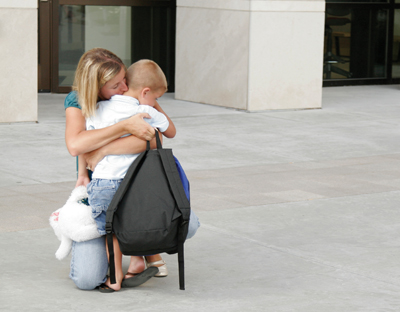 Back-to-school time is particularly anxiety provoking for those entering kindergarten for the first time (and their parents). Here are some simple tips to ease the stress for both; they will also instill confidence in your children for their ultimate success in life.
• Don't have long goodbyes with your child-they create confusion for the child about your confidence in her ability to make this transition successfully. Smile and confidently turn away, assuring her that she is in the right place at the right time.
• Do tell your child who will pick him up or how he will get home, as well as what you will do that evening after school. This reassures the child that there is an after school time, and that the imminent separation is temporary.
• Do share a compliment about your child with the teacher - in front of your child. Something like:
"I know he will be such a great kid to have in your class!" This reinforces the belief that you believe in your child's ability to be successful at school.
• Don't discuss your concerns about your child in front of him!
• Do tell your child how proud you are of her and that you know she will be okay at school-and will probably even enjoy it!
• Don't cry in front of your kindergartener (save it for the car!).
• Do send food in his lunch box that he
will enjoy.
• Do be a bit early for drop-off and for pick-up. It is very reassuring to have the security of a parent for a relaxed transition, not one that feels hurried or pressured.
• Do tell your spouse (or your child's sibling or a friend) how wonderfully your child did during the first week of kindergarten - and let your child overhear you! Even if your child cried, you can find something positive to focus on and relate about them. It has to be sincere.
• Do end the day at bedtime with a list of comments about what your child did well that day, even if it is about his or her effort. For example, if a child cried at drop-off or had to be picked up early, then say something such as: "I'm really proud of how hard you worked today to be in kindergarten! What a great success you already are!"
These tactics will instill your belief in them - which, in the long run, is really all every child needs!
Wendy Ludlow, LCSW, is a child development expert, psychotherapist, and clinical trainer with offices in New York City's Greenwich Village and the Bronx.