With a little elbow grease and a lot of creativity, we guarantee these options will run your kids ragged. From games to hikes, it'll be nap time before your kids know it.
1. Go rollerblading. Inline skating, so popular when we were young(er), is still a great source of physical activity, and the leading brand of inline skates that became synonymous with the sport, Rollerblade, now makes equipment that grows with your child. Besides donning a helmet and proper pads, first-time skaters must be patient while learning the basics, start with a smooth surface, and understand that it's okay to fall (they will!). For expert tips on teaching the youngest skaters to stay upright and a video demonstrating the "heel stop" braking method, visit nymetroparents.com/rollerblade.
2. Overcome obstacles. Have the kids assemble their own obstacle course in the backyard or a small area of your local park. They'll expend energy plotting what to use and setting up the course. Then, when you invite friends over to test their skills, your young architects will be motivated to prove their prowess and conquer the course they built—then beat their own records.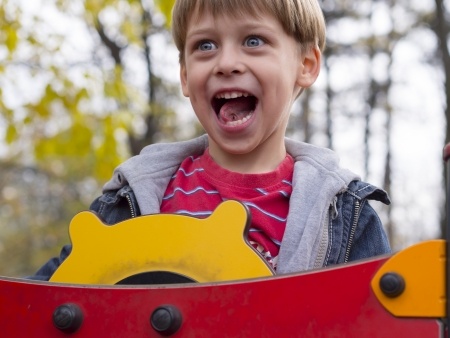 3. Play flashlight tag.

4. Crown the kings and queens of the castle. Forget a treehouse (that becomes a job for Dad and Mom). Challenge the children to construct a castle out of boxes from the recycling pile and found objects. Rainy day? Gather all the blankets and pillows you can find, and turn your brood loose on building their fort inside. Putting a cushion castle together will eat up a good chunk of time, and leave them just worn out enough to retreat to their masterpiece hideaway for a while.

5. Dance the day away. Pump up the jams and ask your kids to make up their own dance. They'll flex their physical and creative muscles coming up with fun (possibly wacky) dance moves. See if they can mimic some of your moves…then see if you can learn theirs.

6. Set up your own color wars. Invite neighborhood kids, camp friends, or school mates; assign teams; and let the games begin. Just make sure to make the races long and provide plenty of snack fuel to keep them going straight through to lights-out.
7. Cycle around town. Pedal hard with a family bike ride around your neighborhood or a local track. Teach your kids about bike safety before your outing at nymetroparents.com/bike.
8. Hit the (play)ground running. Monkey bars, slides, and swings, oh my! Run them ragged with not just any old day at the playground, but with an outing filled with mad dashes, races, and cartwheels on the grass. Make sure you have a stroller so you don't end up carrying your tired fellows home. Check out the best playgrounds in NYC!

9. Have a Hoola-Hoop marathon.

10. Take a hike. Explore some of the best—and most family-friendly—hiking spots around at nymetroparents.com/hike.

11. Dive right in. Swimming is a crucial life skill that also helps to build strength. A dip in the pool and a game of Marco Polo are great, but to wear the kids out you'll need goggles and an abundance of energy—think relay races, dropping plastic fish on the bottom for them to retrieve, and water dancing. Need swimming lessons first? We've got you covered at nymetroparents.com/swimclasses.

12. Have a limbo contest. Crank up the tunes, grab a long stick, and find out how low the kids can go! Find a full game plan, rules, and some fun modifications at nymetroparents.com/limbo.