From fly fishing to orienteering, the Great American Backyard Campout to stargazing as a family, summer is the perfect time to get outdoors and get in touch with nature.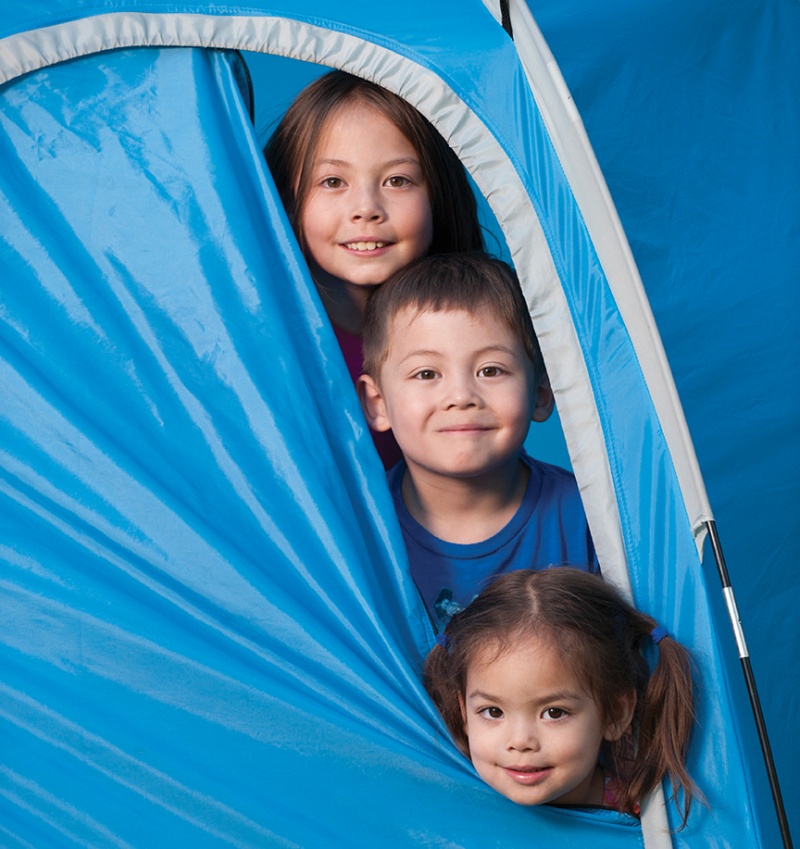 From a nation-wide campout to learning to tie some handy knots, we've got some serious scout-inspired ideas for getting intouch with nature. City folks, prepare to flee the concrete jungle with kids in tow; suburbanites, all those green surroundings were one of the reasons you chose to raise a family here—now take advantage of them, will ya?
1. Join the nation-wide campout.
Pitch a tent in your backyard, neighborhood, a park, or campground to make a difference for America's native animals. As part of its efforts to inspire Americans to protect wildlife, the National Wildlife Federation is hosting its 10th annual Great American Backyard Campout on June 28. This year's campout is part of NWF's 10 Million Kids Outdoors campaign, a three-year initiative that seeks to get 10 million children to spend time outside every day, creating a generation of happier and healthier children with a greater connection to nature. This year, NWF aims to have more than 200,000 participants camp out, and, with the NWF's board of directors and other friends donating $2 per participant to the organization's conservation work, raise up to $400,000.
2. Light a campfire.
There are many ways to build and start a campfire, but the four things you always need are tinder (small twigs, dry leaves, or grass to catch the spark), kindling (small sticks that burn easily), fuel (larger pieces of wood to feed the fire), and a spark source. Try building a tepee, cross, lean-to, or log cabin—Smokey Bear has tips—and igniting the fire with a hand drill, two-man friction drill, bow drill, or flint and steel. Just remember to never leave a fire unattended, keep it small, never use branches or leaves from live trees, and keep an eye on children and pets. (Oh, and check out these delicious s'more ideas.)
3. Go stargazing.
And if it's raining or cloudy—read: no visible stars—head to a local planetarium!
4. Host a bake sale.
Take a page from the Girl Scout handbook and sell sweet treats for a good cause by hosting a Share Our Strength Bake Sale for No Kid Hungry. The national fundraising initiative, which encourages people to host bake sales in their communities to help end childhood hunger, is presented by Domino Sugar, C&H Sugar, and Duncan Hines. Register your bake sale bake.nokidhungry.org to receive a free bake sale toolkit, find a participating bake sale in your area, and find bake sale resources, including tips for a successful endeavor, flyer templates, and recipes.
5. Use crickets to gauge the weather.
Using a watch with a second hand, count the number of times a cricket chirps in 14 seconds, and add 40. The total is the temperature in degrees Fahrenheit, according to
The Old Farmer's Almanac.
6. Prepare your child through play.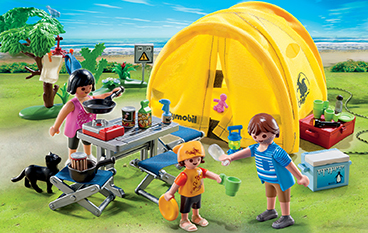 If your family has never been camping, engaging young children in pretend play can give them an idea of what to expect when you head to the campground. With the Playmobil Camp Site and Family Camping Trip (pictured) play sets, children will be exposed to concepts—sleeping in a tent, cooking over a fire, using outdoor bathrooms, or the idea of being unplugged—that might be foreign them. (Ages 4-10)
7. Tie a few knots.
A lot of what you do when camping—hanging food in the trees to protect it from wild animals, fishing, securing rain covers—requires some basic knot-tying skills. Download Animated Knots by Grog Animated Knots by Grog (named the best knot-tying app by Outdoor Magazine) to your Apple device (also available for Android users) to instantly access easy-to-understand instructions and demos for virtually every knot you'll need, including the anchor hitch, arbor knot, slip knot, and the decorative cobra lanyard knot.
8. Find your way with a compass.
Orienteering is a competitive form of land navigation—people race on a course they find by using a map and compass. An orienteering compass has seven basic parts: the baseplate, direction-of-travel arrow, magnetic needle (the red end always points to the Earth's magnetic north), index line, orienting arrow, orienting lines, and compass housing with degree dial. Let's say, for instance, that you want to travel southeast. Hold the compass flat in your hand and spin the compass housing, which has the four cardinal directions on it, so that southeast is in line with the direction-of-travel arrow. Then, while still holding the compass flat in your hand, turn yourself until the red end of the magnetic arrow is lined up with north in the orienting arrow—the orienting arrow moves with the compass housing so it is always in line with north. Double-check that the red end is pointed toward north on the compass housing, otherwise you'll head in the wrong direction! Once you are sure the arrow is lined up correctly, walk in the direction that the direction-of-travel arrow is pointing.
9. Prepare for outdoor adventure.
Before starting any scout-inspired activities, take a cue from the motto shared by the Boy Scouts and Girl Scouts: Be prepared.
Bug bites are the worst. Learn what insect repellant you should buy and how to take care of a sting.

Wear SPF 30 sunscreen and reapply every 45 minutes if you're in the water or sweating.

Keep plenty of water on hand and brush up on how to prevent and detect dehydration

.

Pack gear for all weathers—you never know when it'll rain or get chilly.

Learn basic first aid and bring a first-aid kit that will provide care for everyone in your group.
10. Learn how to build a shelter.
Knowing how to pitch a tent is an essential skill to have before going camping. Check out a simple seven-step guide to pitch a tent from Boys' Life, the official publication of the Boy Scouts of America. If you're a little more adventurous, learn how to build a survival shelter from materials you can find in the woods.
11. Become an equestrian.
From building muscles and increasing balance, coordination, visual-spatial skills, and reflexes to learning patience, care, respect, and responsibility, horseback riding has many benefits for your developing children. Find a stable near you that offers children's riding lessons.
12. Find a hidden treasure.
Geocaching is a modern-day, real-world scavenger hunt that combines modern orienteering, hiking (sometimes), and the great outdoors. Learn the rules of geocaching and find a treasure hunt in your area.
13. Reel 'em in.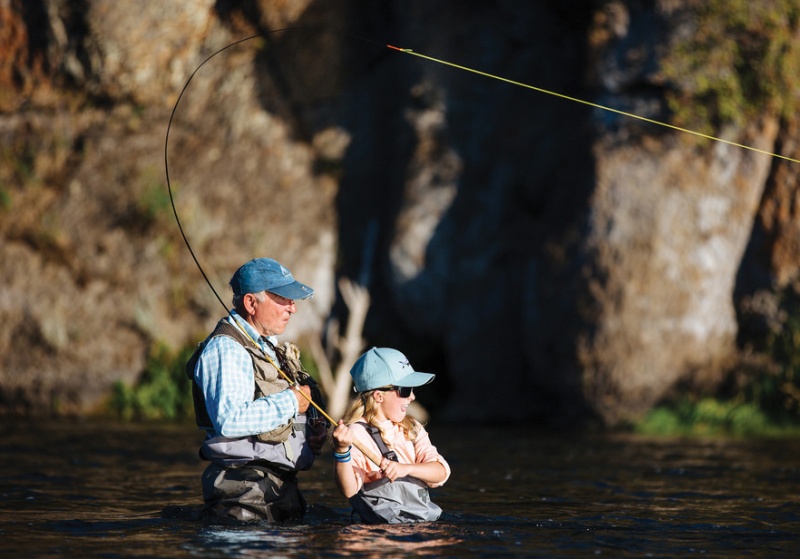 Jeremy Koreski
A simple fishing pole and a bucket of worms might bring back memories of mellow weekends with your own dad, but true-blue fly-fishing gear is as likely to intimidate. In an effort to make the sport more accessible, Patagonia recently launched its Simple Fly Fishing campaign and a family-minded starter kit inspired by company founder Yvon Chouinard's visit to Japan years ago. The centuries-old technique she learned and the tenkara fly rod, which has no reel, make it easier—and cheaper—to fly-fish. "This is for the young person who has wanted to learn, but is intimidated by the complexity, elitism, and expense of fly-fishing," Chouinard says, "and for the long-time angler who has everything and wants to replace all that stuff with skill, knowledge, and simplicity."
| | |
| --- | --- |
| | This Simple Fly Fishing kit comes with a tenkara-style fishing rod, a box of 12 flies, a set-up guide, line and leader, and Simple Fly Fishing: Techniques for Tenkara Rod and Reel by Yvon Chouinard, Craig Mathews, and Mauro Mazzo. |