After a rambunctious summer Saturday, it can feel great to get back to center with a mellow Sunday. Skip the urge to hibernate—just turn down the volume with the 17 best activities for a lazy day.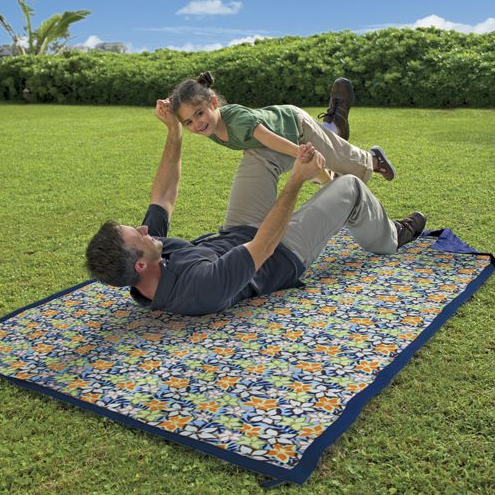 1. Share a sunset together. Tell us your favorite local spots to take in the sunset—and share your pictures!—at facebook.com/nymetroparents #FamilySunset.
2. Go for a spin. Ride like the wind—or, better yet, a lazy breeze—on a vibrant, historic carousel. Give in to your kids' requests for multiple tickets (c'mon, let them ride the stallion and the frog), and surprise them with trips to different carousels over the next few weeks. Take your pick from our list of area faves (and search surrounding communities if you happen to be visiting friends) at nymetroparents.com/carousels.
3. Set up an old-fashioned lemonade stand. If you want to get all 21st-century about it, post notices on social media, not in the local laundromat. Just make sure to supply the kids with change!

4. Ditch all your cell phones for a day. Talk face-to-face, read paper books, and let thoughts wander.

5. Try this on for size. Let your kids raid their Halloween costume collection or step into your grown-up digs for a dress-up session. Take in the action from the comfort of your chaise and revel in some guaranteed Instagram hits—no one can resist cuties playing fireman or rocking Mom's high heels, after all. Bonus points for organizing a stage show (popcorn included) or helping their role-playing along by getting in on the act yourself!

6. Lighten the load. Ah, chores. Pick a Sunday to tackle those ever-growing mounds of laundry. Forego your usual high standards for a change, and encourage the kids to race to see who can fold and stash their own clothes the fastest. Do not "check" their work—ignorance, and an empty hamper, is bliss.
7. Become al fresco bookworms. Remember the days when you actually read the newspaper, leisurely, section by section? Find a way to get lost in reading again. Engage the whole clan. Print reading lists from your local library…and actually use them! Pick books that can span generations so a few of you can get lost in the same story together, or decide on a family theme to explore—stars, Star Wars, water… And leave the tablets inside, not only to avoid the sun glare, but to not be confronted by constant pings and rings. Being quiet together (and yet apart, imagining your own worlds) is a real gift. Go to nymetroparents.com/summer-reading for resources.

8. Go for a post-dinner walk—the whole crew!

9. Expect slow. When exploring nature with your kids, consider the pace—and resist the urge to speed things up. Slower can be better, advises Peter Brown Hoffmeister in his enchanting book Let Them Be Eaten by Bears: A Fearless Guide to Taking Kids into the Great Outdoors. "Going slowly with my daughters, I've discovered bull snakes I would have hiked right past. I've seen bald eagles arguing with each other in a tree right above our heads when we stopped for a drink of water," Hoffmeister says. "Slower means more time for discovery."

10. Post a sign: Gone fishin'. Nothing says lazy, hazy days of summer like sitting on a dock waiting to hook a fish. Sure, it's a sport, but you might even score an elusive nap from your kids if you're lucky—just be ready to reel in their fish while they snooze. Check out our favorite fishing spots, plus get a few tips, at
nymetroparents.com/fishing.

11. Ahhh, breathe.Do a yoga session on the grass. The family that stretches together…
12. Make a blanket statement. Keep an old sheet or, better yet, a large blanket with a water-resistant bottom, on hand—in your car trunk or near your home's door—for impromptu lounge sessions on the grass. Whether taking a few steps to your backyard or trekking blocks to the park, pack light and plan to chill: simple snacks (see p. 22 for a few ideas), plenty of water and sunscreen, books and magazines (check out highlights.com for fun activity books tailored to various age ranges, from newborn to 12). Don't worry about planning a full-fledged picnic (too much pressure for a restorative Sunday)—snacks and finger foods are fun, low-key options! We love this blanket from One Step Ahead!
13. Watch the clouds. Lie on your backs and challenge one another to find images in the fluffy wisps above. Whose imagination rules?

14. Be nature detectives. Give your kids a copy of the Backyard Explorer Kit, comprised of the Leaf & Tree Guide by Westchester writer Rona Beame, a leaf collecting album, and a clear plastic collecting envelope. The illustrated guide shows examples of all the major leaf and needle shapes and lists the common trees they match up with, plus explains how to press and mount the leaves. (Ages 5-10; $11.95; Workman)
15. Flex your DIY muscles. Spread out some glue sticks and glitter pens and check out nymetroparents.com/kidscrafts for a handful of projects that are easily transportable to an outdoor venue and are appropriate for varying ages and interests.

16. Fly a kite.

17. Let them be bored. Boredom breeds creativity (after a little restlessness!)—so sit back and watch what they come up with. Keep your ideas to yourselves, Mom and Dad.