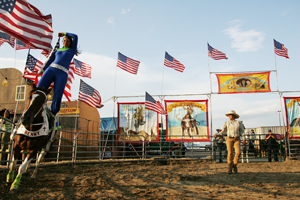 Families can get their fill of cowboys, cowgirls, Texas longhorns, extraordinary animals from around the world, and more than 100 rides, games, and attractions at the 2010 Nassau Coliseum Fair. The largest event of its kind in the New York metro area, the fair offers a unique lineup of activities during summer weekends through July 11.
There will be plenty of live entertainment, including the Lance Gifford Magic and Illusion Show and the Great American Frontier Show (during which a rider performs daring tricks on a galloping horse and an Arabian stallion walks 60 feet on its hind legs). Other musicians, dancers, and martial artists will also perform on the main stage.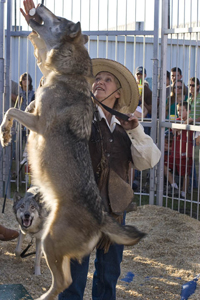 Perhaps most impressive about the fair is its variety of exotic animals. Kids can visit the petting zoo and view the biggest horse in the world, the strongest ox in the world, a llama from South America, the Brahman bull of India, and the watusi of Africa. Animal rescuer and trainer Michael Sandloffer offers educational opportunities to learn about these animals. The Wolves of the World show will showcase leaping wolves; see what happens when a buffalo is introduced to the pack! Even dogs have a place in the limelight at this fair - they'll star in the Old West Theatre's vaudeville show.
Of course, there are plenty of carnival-style rides, including the RC-48 steel coaster, as well as thrill rides including the Orbiter, the Pirate, Alpine Bobs, Ring of Fire, the Giant Wheel, and the Wacky Worm Roller Coaster.
Info
Where: Nassau Coliseum Fair, 1255 Hempstead Turnpike, Uniondale
When: Weekends through July 11. 5pm-midnight Fridays; 1pm-midnight Saturdays and Sundays. Fireworks show July 3.
How much: $8. Free parking (except when other events are taking place). Two-for-one admission coupons available.
For more information: 631-920-0910 or 516-794-9300 or www.nassaufair.com.
For even more family events on Long Island, visit our Online Calendar.