On Wednesday, the NBA and Share Our Strength's No Kid Hungry campaign teamed up with New York City officials at PS 111 to celebrate the kickoff of the annual Free Summer Meals program.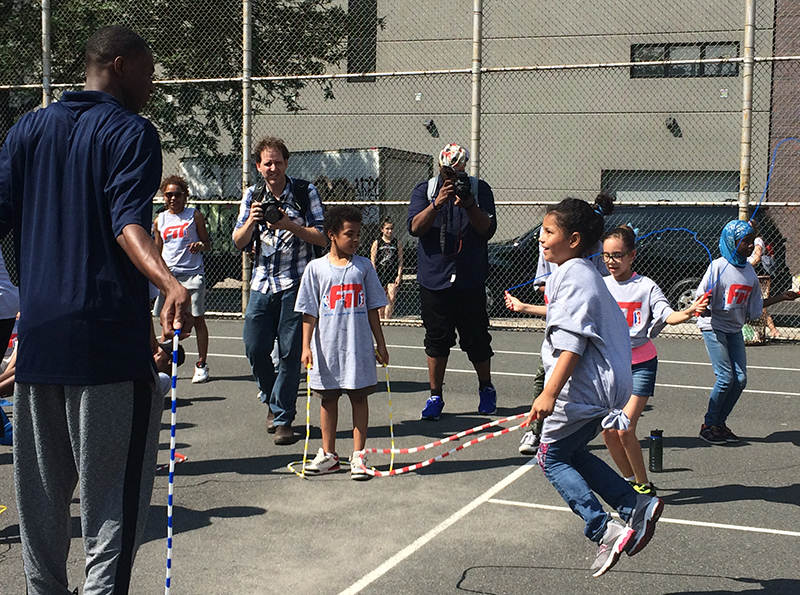 The Free Summer Meals program, which runs from June 27 through Aug. 29 this year, was created for the thousands of New York City students who rely on school meals throughout the year and don't otherwise get steady meals during the summer. The program offers both children and teens (ages 18 and younger) free meals through the USDA that are sure to provide them with the daily vitamins and nutrients they need to live a healthy and active lifestyle.
During the kickoff event, about 75 young students from PS 111 participated in various NBA FIT clinic activities with top NBA Draft 2014 prospects, including Joel Embiid, Dante Exum, Doug McDermott, Jabari Parker, Marcus Smart, Nik Stauskas and Andrew Wiggins.
The clinic allowed students to interact with the players, who shared their success stories and talked about the importance of hard work along with a healthy lifestyle. But with six out of seven NYC children not receiving the meals they need after school ends, it becomes more of a challenge to stay strong and healthy. "Poverty is complex, but feeding a child is not," said Billy Shore, founder and CEO of Share Our Strength, the nonprofit behind No Kid Hungry. "There is no reason that any child be deprived of something as simple as a healthy meal."
The Free Summer Meals program served 7.9 million meals last summer alone, according to Mayor Bill DiBlasio. This summer, with more than 1,000 sites across the city serving free meals, DiBlasio said he hopes the program's success will continue. To find a Free Summer Meals site near you, text NYC Meals to 877-877, call 311, or visit newyorkcity.nokidhungry.org/free-summer-meals.