If you're in New York City this July 4, here's where to watch the Hudson River fireworks show and where to find other family-friendly Fourth of July events in Brooklyn, Manhattan, Queens, and Staten Island.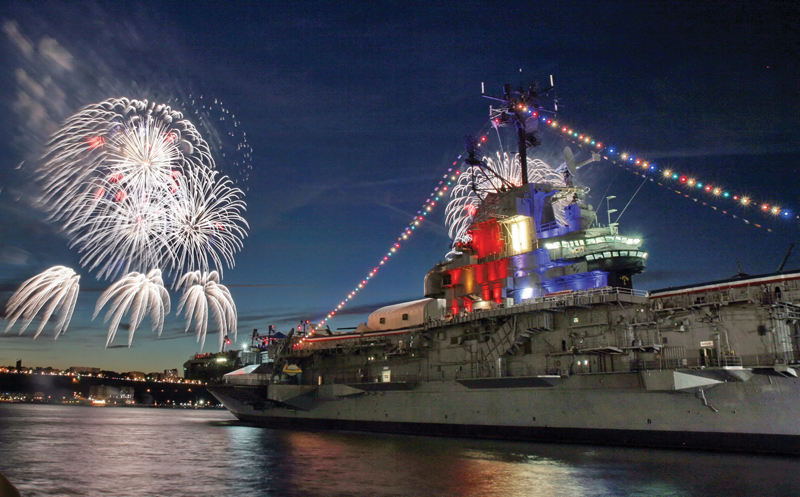 July 4th is a fun day that offers plenty of activities throughout New York City, including some events that are distinctly steeped in American history and the spirit of the day.
Brooklyn
Lady Liberty
Brookyln Children's Museum, Crown Heights
July 3
Standing with her torch held high, The Statue of Liberty has been lighting the way for millions of immigrants coming to America through New York Harbor. Celebrate her birthday and our country's by making a patriotic craft.
Clearwater Deck Tours
Brooklyn Bridge Park, Pier 6, Brooklyn Heights
July 4
You can say you spent July 4th on a beautiful sailboat, even if the boat never leaves the dock. This is a rare event that allows visitors to explore the great boat that was popularized by folk music legend Pete Seeger and learn about his decades-long effort to clean up the Hudson River and spread the word about environmental awareness. FREE!
Nathan's International Hot Dog-Eating Contest
Nathan's Famous, Coney Island
July 4
Head to Coney Island to see various weirdos try to down as many hot dogs as possible. The winner of last year's hot dog-eating contest was Joey Chestnut, who gobbled down 68 dogs. Whether or not you watch this bizarre competition, a trip to Coney Island promises sun, sand, amusements, great food, and the joys of summer. FREE!
Manhattan
Independence Day Scavenger Hunt
DiMenna Children's History Museum at New-York Historical Society, Upper West Side
July 4
Search high and low in the New-York Historical Society on an Independence Day Scavenger Hunt. Families will aim to find the horsetail from King George's statue, George Washington's cot, and other national treasures.
While you're at the DiMenna Museum, you can also Meet Ben Franklin and Other 18th Century Americans.
Lady Liberty Sculptures
Children's Museum of Manhattan, Upper West Side
July 4
Kids can celebrate America's birthday by creating a red, white, and blue Lady Liberty Sculptures and articulating what freedom means to them. Little Artists can also get crafty with confetti and strips of brightly colored metallic paper to make a collage that shines as bright as a Fourth of July fireworks display.
Macy's July 4th Fireworks at Intrepid
Intrepid Sea, Air & Space Museum, Hell's Kitchen
Want a great view of the fireworks on the Hudson? The Intrepid Sea, Air & Space Museum is teaming up with Macy's to host viewing parties at five different locations along the river, available for $175-$225.
Queens
Mets vs. Diamondbacks
Citi Field, Flushing
July 3
There will be plenty of fireworks when our home team takes the field against the Arizona Diamondbacks baseball game. The celebration continues after the game, when a colorful patriotic display illuminates the night sky above the stadium.
Independence Day Celebration at Fantasy Forest
Fantasy Forest at Flushing Meadows Carousel, Flushing
July 4
Love the idea of celebrating the holiday with family and friends at an amusement park but want to skip the hassle of traveling (not to mention the long lines for rides)? Then head over to the Independence Day Celebration at Fantasy Forest, the only amusement park in Queens. Kids of all ages can celebrate the holiday with a magic show by Omar Ollusion, take a spin on the borough's first roller coaster, and ride the historic Flushing Meadows Carousel from the 1964-65 World's Fair. FREE!
Hot Jazz/Cool Garden
Louis Armstrong House Museum, Corona
July 4
Celebrate America's birthday at the home of an American original. Jazz great and former Queens resident Louis "Satchmo" Armstrong always celebrated his birthday on the Fourth of July. At Hot Jazz/Cool Garden, families can take an intimate tour of Armstrong's former home in Corona, sample some of Satchmo's favorite foods, and enjoy birthday cake and music by Bria's Hot Five in the garden.
4th of July Festival
Forest Park Carousel, Woodhaven
July 4
Get ready for some old-fashioned holiday fun at the 4th of July Festival in Woodhaven. Celebrate with Zabo's Circus Show, featuring clowns, magic, and family fun. FREE!
Staten Island
Independence Day Celebration
Historic Richmond Town, 441 Clarke Ave.
July 4
Historic Richmond Town presents its Independence Day Celebration, where you will feel like a true patriot. Revel in a pie-baking contest, taste some old-fashioned apple pie, try your hand at ice-cream making, view historical artifacts, and enjoy an overall colonial vibe. (No hard feelings: The British are invited.)