A Manhattan mom who owns two restaurants in the city shares tips on dining out with kids, tricks for making vegetables edible, and the recipe for one family-favorite seasonal soup.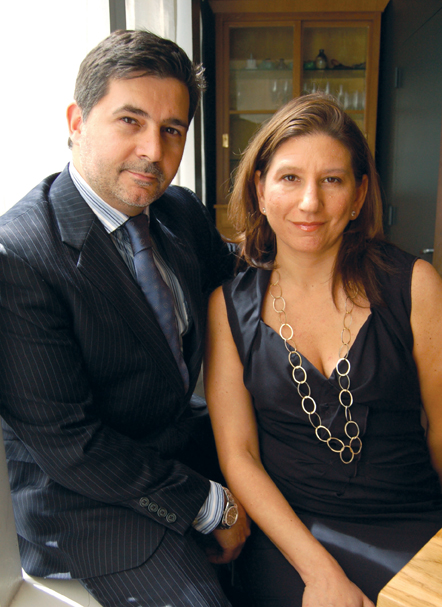 Husband-and-wife team Marco
Moreira and Jo-Ann Makovitzky
own two restaurants in Manhattan,
serving foods inspired by trips
to the greenmarket.
Jo-Ann Makovitzky's life revolves around food. The New York City native began planning her culinary career at a young age, becoming a chef's apprentice at age 15 and later attending the Culinary Institute of America. In 1985, she claimed the title of first female cook at La Caravelle, one of the city's classic French restaurants that recently closed. It was also food that brought Makovitzky and her husband together—she met Marco Moreira during a stint at Dean & DeLuca, and the pair now own two restaurants of their own near Union Square, including the American-European infusion destination called Tocqueville, which features fresh, local ingredients from the Union Square Greenmarket.
In addition to chef and restaurateur, Makovitzky is mom to 9-year-old Francesca—another job that puts her foodie know-how to work. We sat down with the Manhattanite to glean her wisdom on getting kids to love healthy, local, and sustainable food.
Connect food with nature.
"On Sundays we go to the greenmarket near our house and get fresh fruits and veggies. We're friends with some of the farmers, and Francesca sometimes asks to help out at the farm stands. She'll do little chores, like help bag cherry tomatoes or strawberries—she knows about three types of strawberries and she loves to talk about that. We have another friend who has a farm, and she loves to go there to collect the eggs and see the goats. She likes goat cheese now and asks if she can have goats' milk for breakfast.
"When you get kids involved and they see where everything comes from, they see how special it is and then they want to eat it. Get them involved from the ground level. If you don't have a garden or farm, you could just have a window box with fresh herbs growing and have the kids help take care of the herbs. They'll get interested in food and flavors. Kids love nature. When they see how close their food is to nature, I think they like it better than something that comes in a neon box."
Show veggies some respect.
"How do you get kids to eat vegetables? Make them taste good. Just adding a little butter—kids can handle a little butter—can make all the difference. Season them and spend time on them, just like the other parts of the meal.
"Plus, if they choose it, they're more likely to eat it. Let them pick out which vegetables they want when you're shopping. It gives them a sense of ownership. Then you can say, 'You chose it, don't you want it?'"
Ditch the "kids' menu."
"Francesca grew up traveling and eating in restaurants with us. She's very curious and adventurous when it comes to food. We take her out dining often, and I'm like, 'Please don't say kids' menu.' Instead of chicken fingers, kids should be eating smaller portions of what's on the 'adult' menu. I think [parents] tiptoe around kids' foods and go with what they think kids will like instead of what's good for them or what they should be eating. When we make dinner, everyone eats the same thing."
Plan, shop, then eat.
"Get kids involved in the shopping so it's not just, 'It's mealtime, here's your food.' On Sundays, I let Francesca plan her menu for the week and we make sure we have everything we need. We go to Fairway and if she wants olives, I let her choose different ones. She always helps with some part of the meal, even if it's just trimming the string beans."
Play with presentation.
"For family dinners, have kids set the table and make place cards. Francesca always wants the candles lit to set the atmosphere. We let her design the plates, make the vegetables look fancy, and we let her serve it. Get kids involved in the presentation and encourage them to plate the food however they think is beautiful. They get into it. It's fun for them, like arts and crafts."

Family-Favorite Soup
After a trip to the Union Square greenmarket one summer day, Makovitzky found herself with a surplus of fresh, seasonal veggies and decided to celebrate them all in one luxurious soup. Get her family-approved recipe for Greenmarket Vegetable Chowder, which is sure to soon become a staple in your household as well.