Mel Bartholomew, who developed the Square Foot Gardening method, shares five tips for a successful and enjoyable gardening experience with your kids.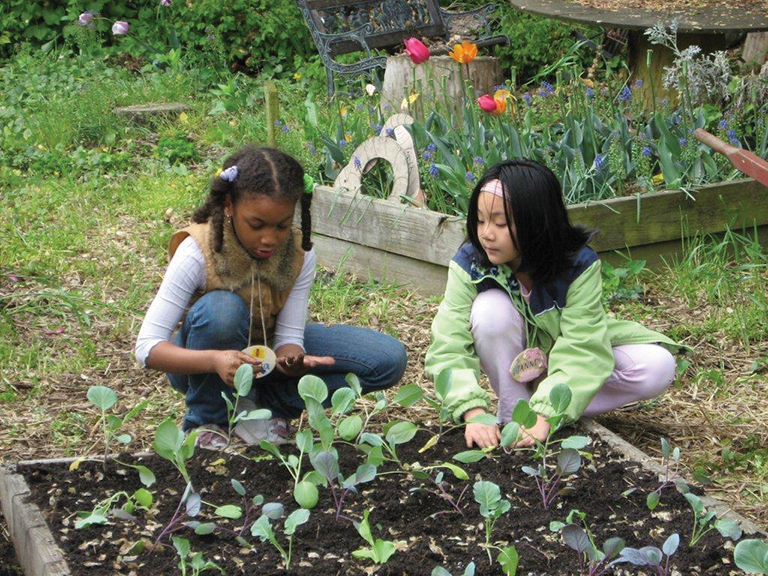 The Queens Botanical Garden in Flushing hosts spring, summer, and fall gardening sessions where young gardeners can get involved by planting vegetables, herbs, and annual flowers in the Children's Garden.


• Start modestly: If this is your first experience with gardening, you don't need to create a huge backyard garden with every kind of vegetable. Start with a small plot or a small Square Foot Garden—a form of gardening that uses a raised planter filled with a special soil mix and divided into 1-square-foot sections that each house a different plant—with your child's favorite vegetables. "Kids should grow only what you're sure they can and will eat, or can easily give away," says Mel Bartholomew in his book Square Foot Gardening with Kids. Once you have a successful first season, add to your garden size—that is, if you feel you can keep up with it.
• Involve the child: Every step, from planning to "planting, growing, nurturing, to the final harvest, represents a chance for kids to be involved, have fun, and learn," Bartholomew says. "Even if they can't do everything themselves, don't do it for them"; give an assist.
• Reinforce the benefits: When your child picks a vegetable she grew in her garden, "don't just pat her on the head and say, 'That's nice dear.' Get excited too," says Bartholomew, who pioneered Square Foot Gardening 40 years ago. Find a recipe that uses the picked vegetable and make it for dinner that night to show your gardener how valuable her harvest is, he suggests.
• Look for lessons: Use gardening as a teaching tool, "but pick the lessons that won't dampen children's enthusiasm," Bartholomew says. Ask young gardeners what colors they see and have them count plants, introduce elementary-aged gardeners to photosynthesis, and get older gardeners to teach you what they've learned in school about plants.
• Share: "Kids love to share their successes," Bartholomew says. So have him give a neighbor a tomato, or get him to help make a meal from his harvest for Grandma and Grandpa.
Mel Bartholomew developed Square Foot Gardening as a more manageable garden that yields 100 percent of the harvest in 20 percent of the space. Bartholomew has since brought this method to schools and begun a global outreach initiative to bring the dietary benefits of his system to Third World countries. His book Square Foot Gardening with Kids covers every aspect of "SFG," and includes fun activities and lessons to get the most out of your gardening experience.