When Cashanequia Drumgold and her husband Derron Ryan first contacted Abbott House two years ago to adopt a child, they asked, like most parents in their situation, how young the children were. "I wanted to adopt a child who was about the age of my own children, who were 2 and 8 at the time," says Drumgold. Abbott House, a foster care agency headquartered in Irvington, had no children available for adoption anywhere near the couple's target age — but they had plenty of teenagers looking for permanent homes.
   Since 1963, Abbott House has served the five boroughs of NYC and the lower and mid-Hudson Valley region. "We hadn't thought about adopting a teen, but then we heard about the Bridge Family Program," Ryan recalls. The only program of its kind in the state, the Bridge Family model unites families who are considering adoption with teens who have been in the foster care system for the majority of their lives. Though these young adults been cared for, they have little experience interacting within a family setting.
   Bridge family coordinator Winston Long points out that "all children want to be adopted, no matter what age. Late adolescence is a confusing time. Imagine what it must be like to reach the age of 20 and to head out on your own with no one to call when things get rough." From January through November 2007, 75 percent of Abbott House's adolescents in foster care in Westchester County aged out of the system without being adopted or reunited with their birth families.
   Drumgold and Ryan understood the need. They agreed to meet with Long, who explained that the Bridge Family Program is a highly structured, nine-week, teen-oriented program that explores what it means to be a part of a family, both as a child and as a parent. The children meet weekly with group leaders and at the start of the fifth week, begin visitation with their practice family. Drumgold, Ryan and their two children heard about a young man named Andre who had been in foster care for several years.
   By the fifth week they could barely wait to meet Andre.  And once the fifth Bridge session concluded, it was clear that Drumgold and Ryan were never going to let Andre go. Though it took a year, they adopted Andre last spring. "I can't imagine our family without him," Drumgold says now.
   Not all sessions of the Bridge Family Program have such a perfect ending, but according to executive director and CEO Claude B. Meyers, the ultimate goal isn't adoption. "Families get a trial run at being foster parents, and adolescents can practice being part of a family. The program succeeds if a lasting connection is made — that's our measurement tool."
   In some cases, Bridge alumni have fostered other children, and teens have gone on to be adopted by other families. "Young people often repeat the program if it doesn't work out the first time. We've ignited the hope that they can still be adopted, no matter how old they are."
   Families from Westchester and Rockland interested in becoming foster or adoptive parents can learn more about the Bridge Family Program by calling (914) 591-7300 x3056. For info about Abbott House, visit
www.abbotthouse.net
.
JASON DEWEY is a representative from Abbott House.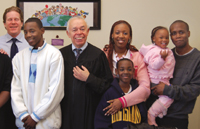 Abbott House child care supervisor Chris Miller (far left) was on hand when Judge Guy DePhillips (middle) officiated at Andre's (second from left) adoption into the Drumgold/Ryan family: (L-R) Cashanequia Drumgold; Kareem; Tiffany; and Derron Ryan.