A new school year always presents a shopping list of supplies for back-to-school. For most children, this can be an exciting time of year — shopping for the coolest backpack, or finding the right binder.
   But for many Rockland County children and their parents, back-to-school is filled with trepidation because they can't afford the necessary supplies. In fact, it can be a tremendous financial challenge, sometimes requiring families to leave other bills unpaid or to skip the food shopping in order to afford supplies. Equipping a ninth grader with needed supplies can cost as much as $65; for some, an additional $100 for a graphing calculator. Fortunately there is a resource for families in need of support during this financially difficult time.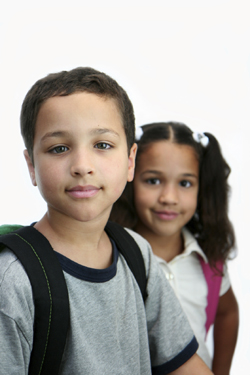 Back to School with Dignity is a program that has been serving the community for seven years by supplying low-income children with backpacks filled with the supplies needed for school, as well as clothing and sneakers. All children deserve to be equipped with the proper tools to learn and to obtain the best education.  Back to School with Dignity's goals are just that — to provide children with school supplies, which in turn gives the students a greater sense of self-esteem so they are ready to learn and succeed in the classroom.

   Serving Rockland County exclusively, Back to School with Dignity has seen its client numbers grow from 375 children in 2001 to a daunting 2,050 in 2006. The children served range in age from pre-school to college. As the number of people who need help increases every year, the need for donations also rises.
     The program is run under the umbrella of People to People, which provides food for low-income families in Rockland County. People to People is Rockland's longest running food pantry program and has received the highest four-star rating from Charity Navigator. They opened their doors in 1973 with the core mission of making sure no one in Rockland County went to bed hungry. Since then, the organization has grown immensely and serves many families in Rockland by providing food, clothing, school supplies, counseling, and more.
   "Our priority begins with our food pantry clients, about 1,200 to 1,500 families," says Carol Galione, director of programs.  "Most of these people have fallen through the cracks and do not qualify for social services, so they get help from us." July, August and September are particularly bad months in terms of food donations, says Galione, "because people are away or transitioning back to school."
   The organization serves the community, and is also supported by its community members. It is not uncommon to see children helping children at People to People. Many high school students volunteer to earn community service hours. Girl Scouts can often be seen standing in front of stores running food or school supply drives throughout Rockland County.
   This year, before school starts, the 2,050 children and their parents who are part of the Back to School with Dignity Program will go to the headquarters building in Nanuet where they have set up a "back to school shop".  Here, the children will bring in their school supply lists so that volunteers can stuff backpacks with supplies. The family will then be brought to the Dress Barn Clothing Room where brand new socks and underwear are distributed and the children are allowed to pick out a few outfits for going back to school. Families in need of assistance should call and make an appointment for an intake interview; they will be asked to bring certain paperwork with them.  
How to Help
   Volunteering is easy. You can come by at a moment's notice or sign up in advance. Volunteers should call the main office (845-623-4900) and speak to Mary Shay, office manager or Carol Galione.  People to People is always looking for supporters, donors, local churches or groups who are willing to have collections or drives. Predominantly a food pantry, they are constantly in need of food. "We always need cash, non-perishable food items, dry/canned goods, gently used children's and baby clothing, coats, new Christmas presents, new children's underwear and socks, school supplies, baby equipment (but no car seats), and diapers, lots of diapers!" says Galione. "If people or organizations would hold a drive for even one of these items, it would be great, and we would assist in any way possible."
   While People to People and the Back to School with Dignity Program appreciate all donations, they do NOT need crayons, single subject spiral notebooks, white index cards or loose-leaf paper. Donations can be brought to the facility in Nanuet on weekdays from 9am-4:30pm. For more information, call 845-623-4900 or visit
www.PeopleToPeopleInc.org
.