A new year in New York brings a new line-up of performances for kids. This month, Theatreworks wraps up the first show of their 47th season with a musical production starring the famous bunny siblings,
Max and Ruby
. The musical is based on the series of stories by Rosemary Wells, and the popular preschool program on Nick Jr. and Noggin.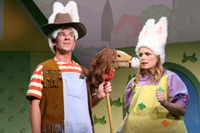 Ruby, played by
Seussical's
Kelly Felthous, is attempting to write and perform a show for Grandma. But she's constantly being interrupted by her little brother, Max. True to reality, real-life brothers and sisters will immediately recognize the older/younger sibling aggravation between the two!  
  Lee Markham, who plays Max, is authentic as a "preschool bunny". His lines may be limited, but his facial expressions and gestures more than make up for that. He walks and runs like a tot, hopping after a dragonfly as his sister tries desperately to quiet him down so she can write a play. When he gets lost, the cast breaks into a lively tune,
Looking for Max
. At one point, a vivacious Grandma whips out a red feather boa from a trunk in her attic and sings and dances to the energetic music, while Ruby continues her big sister role to help Max survive a nightmare, release a found frog, and get through the day. In the end, the duo and cast recap their stressful day —all of which impresses Grandma. 
   Theatreworks, the not-for-profit professional theater dedicated to entertaining family audiences, regularly manages to accomplish the wonderful task of creating life-size skilled performances for young children who are being introduced to theater for the first time. The troupe has an ongoing affiliation with the Lucille Lortel Theatre to present their Family Series of shows. With a stage so close to the audience, it's the ideal setting for young spectators.
   This show is recommended for children ages 3 and up. Scenes are short, and timed perfectly to hold a preschooler's attention, with colorful costume changes and plentiful jokes for kids and adults alike. Kids need not be familiar with the original Max and Ruby to thoroughly the tale of two siblings who have hassles — but still love each other. Older brothers and sisters will immediately recognize the patience and attention needed for younger siblings, and hopefully realize they're not the only ones with a little brother packed full of energy!
Info



Where:
Lucille Lortel Theatre, 121 Christopher Street
When:
Wednesday-Friday matinees at 2pm, Fridays at 6pm, Saturdays at 11am, 2 & 5pm. Sundays at 11 & 2pm. Through January 13.
How much:
$25
For more information
, call (212) 279-4200 or visit
www.twusa.org