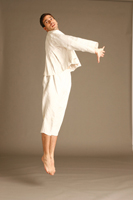 Making Books Sing, the New York-based company that creates musicals based on contemporary children's books, premieres Josè Limòn, The Making of An Artist. Inspired by the unfinished memoir by the famed dancer and choreographer, the production at Symphony Space and other venues throughout the five boroughs coincides with the 100th anniversary of Limòn's birth later this month.
I had the opportunity to attend a preview of the theatrical version, based on the new children's book by Barbara Zinn Kreiger, and found the story engaging, inspiring and refreshingly honest. It starts off with Limòn's family's move from Mexico to California after the Mexican Civil War. From the interaction between Limòn with his parents, teachers and peers, we learn about his struggle to fit in, and his desire to become a painter.As he becomes older, he moves to New York, to the dismay of his father, to pursue his dreams.After a chance encounter at a dance recital, his dreams and artistry suddenly take on a new and unexpected direction.
While families will be entertained by the modern dance choreography, it's the story itself that is most attention-grabbing.Children ages 6 and up as well as adults will easily be transported into this glimpse of Limòn's life. They'll find many experiences to relate to, from Limòn's courage to pursue his passion with or without the support of his parents, to comparing himself and his abilities to others, to his commitment to ultimately find fulfillment within himself.You can't help but root for him.
The songs by Charles Greenberg are catchy (you'll leave humming a few afterwards), and often funny or sad, drawing children right into the emotional heart of the scene. The transitions between multiple characters by only four actors are seamless; you'll forget that the same actor just played a different person a few moments ago. Particularly impressive is the performance by Diego Rodriguez, who plays Josè Limòn with such passion and conviction, it's hard to believe he's acting.
Most refreshing about the story is the way it portrays the quest for success.It shows that fulfilling your dreams takes more than just hard work and determination. The lesson is to believe in yourself and your abilities, but to also have the strength to recognize limitations and perhaps embrace another path that you may be even more suited for.The song "Inner Music," sung by Limòn's mother, encourages him to realize and pursue his true calling.Families will realize that there's music inside everyone; if you listen closely enough, you'll know where to follow it, even if it's somewhere you didn't expect.
Info:
Where: Symphony Space, 2537 Broadway (at 95th Street).
When:January 31 and February 1 at 4:30pm; February 3 and 4 at 10am and 12pm.
How much:$23; children ages 18 and under $13
For more information and other locations: 212-573-8791 ext. 246; [email protected]; or www.symphonyspace.org.