My children spent last summer digging up worms. They dug them out of the garden and held them, and transferred them back and forth between Tupperware containers. It must have been a natural instinct, this digging, because I never suggested it and no one showed them how. They live in Manhattan. It was their first full season spent outdoors at our summer house in Three Arrows, a cooperative lake community where we are now members. For me, the worm-digging now represents all the unanticipated adventures and simplest of pleasures brought by spending the summer in a country house.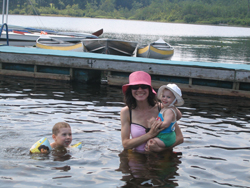 The author cools off with her kids at Three Arrows
How we got there
   Three Arrows Cooperative is a multi-generational summer community located in the Hudson River Valley. It was established in 1936 by a group of young New York socialists who together purchased 125 acres on Piano Mountain in Putnam Valley to build their summer "paradise" away from the city. It is now a modern cooperative governed and maintained by the membership itself.

   My husband Bruce's great-grandfather, David, active in the Jewish Labor movement, was one of the founding members. David's son, Seymour — my husband's grandfather, known as 'Poppy' to my children — met his wife, Doris, at Three Arrows when they were in their 20s; they built their house in the 1940s. Bruce had spent time visiting his grandparents there as a child. For us, Three Arrows felt special, and when Poppy Seymour died in 2005, eight years after his wife's death, the house became ours.

Our adventure begins
   Being in a house on a mountainside by the woods has permitted outdoor adventures of the simplest kind to unfold for my family, including Gabriel, now 5 1/2, Jillian, 3, Bruce, and myself. Besides the worm digging, my kids collect and organize acorns by the hundreds. They play with toy cars and get good and dirty making roads for them. We watch insects and anything that crawls, and we all look out for deer. They are city kids. But they know what to do.

   The center of life during a Three Arrows summer is the lake. Not only is it an oasis on a hot day, but its large dock also serves as the place to hang out every afternoon. The lake is set up to accommodate even the youngest of swimmers. One section is basically an enclosed wading pool for the smallest of children. A second is about three to four feet deep, also enclosed, the size of a swimming pool. The third area is a roped-off portion of open lake. 

   When we don't feel like swimming, we can go boating or play under the covered section of the dock. On one side, painted turtles and old giant turtles can be coaxed to the surface with the same snacks that work for my kids — 'goldfish', crackers, 'veggie booty' .

The community
   Although the community is secluded, minutes away are a local public library for reading books on a hot day, playgrounds, shopping, food stores, hiking, and restaurants. Because I'm not isolated from the world, I can stay with my kids for the summer, while my husband can commute or come on weekends.

   But the other reason it's not isolating for me is that I'm in a community of people who know one another. We have a common goal of making our summer active and enjoyable. The activities, run by the members, bring everyone together: yoga classes, speakers and discussions on Friday nights; gardening, arts and writing workshops; and social events on Saturday evenings.

   Three Arrows is more affordable than many other weekend or summer home options. As a coop, with more rules and restrictions than a private property, its house prices tend to be more reasonable. Since it's not fancy, it attracts people who are down-to-earth. It's affordable for a wide range, which helps make it an extremely interesting mix of people, varied by age, income, line of work, marital status, etc.

I change
   During last summer, I sometimes felt I was repeating history. My husband's grandmother raised her two children — my mother-in-law and my "aunt-in-law" — summer after summer, just as I am raising mine here. She went to the lake every day with her children, as I did.  Did she also stand in the kitchen preparing dinner for the barbecue as her kids ran outside? Did her children also complain about the noisy chirping crickets that prevented them from falling asleep, until they got used to it weeks into the season — even though they already could sleep through sirens?

   As last summer wore on, I became a different person. In the city, we are always moving, with many activities and commitments. But in the country, slowly, week by week, the need for structure dissipates. Days pass with no routine, just playing in or out of the house and going to the lake, and eating…and suddenly it's bedtime. Because we don't have to be anywhere at any particular time, there is no rushing to get dressed and out of the house. Nagging the kids is minimal — there is no stress!  In fact, I believe I'm a better Mom during the summer. I don't yell as much. I play more. I spend more time observing and appreciating. I have more fun.

   While living in New York City is a privilege — with its vast availability of museums, parks, cultural events, and shopping, and the ability to walk, or take a bus or train almost anywhere — even the kids know there's something unnatural about it. And while I wouldn't leave this city of ours, I also wouldn't miss my summer escape. For the simplest of reasons, too. My son told me after we returned home last Labor Day why he likes the country: "Well, you don't have to go in an elevator to go outside," and, "There aren't a lot of cars and noise." He's right.

   For more information on Three Arrows: www.threearrowsco-op.net.