Many people go through life without a single defining moment. Farley Boyle is not one of them. Hers came on August 29, 2005, the day after she brought her third daughter home from the hospital. As she watched from her bedroom window, her 2-year-old, Chase, fell from the family's boat into the water.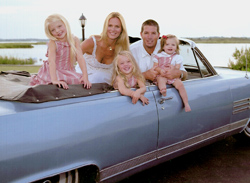 But this is story that continues happily. Boyle's oldest daughter saw the accident and showed her dad where Chase had fallen. Patrick Boyle pulled his daughter from the water and administered CPR. Chase was under water for 90 seconds and was "completely blue and catatonic — lifeless," Farley reports. Chase didn't respond until the third round of CPR, but Patrick managed to remove so much of the water in her lungs that Chase made a complete recovery.

Patrick knew CPR because Farley had signed them both up to take a class when she was pregnant with their first child, four years earlier. "I signed up for everything," says Farley. "I'm a Nervous Nelly mom." After Chase's near-disaster, it occurred to her that when she had given birth the day before the accident, "I had to watch a video on Shaken Baby Syndrome at NY Presbyterian. This gave me the idea of receiving an education (in lifesaving techniques) before being discharged. What are the statistics of shaken baby vs. airway obstruction?" she adds.

Farley also notes that hospitals routinely offer classes on how to bathe your baby, cord care and breastfeeding, but "nowhere is there education that is lifesaving." So she immediately set out to change that — by starting C.H.A.S.E. for Life (CPR/Heimlich–Awareness–Safety–Education), and producing a video, How To Save A Life.

But first Farley started offering grass-roots education. She was so impressed by, and grateful for, the speedy EMS response, that after Chase spent three days in the hospital, Farley invited the EMS team that had helped save her daughter to offer free CPR training to her friends and neighbors. Thirty people showed up and after learning these skills, voluntarily contributed $2,000 to the EMS. And remarkably, one of the women who attended saved her niece from choking a week later. Farley realized that she had to come up with a way to offer free lifesaving training to parents.

A former model with three kids under age 5, Farley did not envision herself working "beyond full time". She stays motivated, she says, "by the fact that I can look at my daughter's face every day and hear her laugh."

The How To Save A Life video offers a lifesaving primer, but is not for certification. Farley explains that her goal is to demystify the techniques: "What you need to do is very simple — push on a chest above the heart and breathe." She quotes statistics that the leading cause of death for children under 14 is unintentional injury. While car accidents head that list, they are closely followed by drowning and choking,

The Boyle family lives in Little Silver, N.J., and C.H.A.S.E. for Life is piloted in 13 New Jersey hospitals. New parents are urged to watch the video, which plays in a continuous loop in pediatric and maternity waiting rooms. The video, which uses animation and catchy music, is hip and modern, designed, Farley says, "to alleviate anxiety with this topic." The video's main character, Paddy the Penguin, has a double meaning; not only are penguins land and water creatures. Paddy is her husband Patrick's nickname.

Farley, who is having the video dubbed into Spanish, believes we can change the statistic and save lives. She adds, "it was miracle" that Patrick was able to save Chase, but it was really a direct result of being properly educated. If Farley Boyle has her way, all parents will likewise be educated.

The video can be downloaded free at www.chaseforlife.org.