"Believe in yourself and dreams come true" is the positive message of Growing Up with Loukoumi (NK Publications, $19.95), a new children's picture book and CD by Nick Katsoris. In this second book in the series, Loukoumi the lamb is back, this time trying to figure out what she wants to be when she grows up.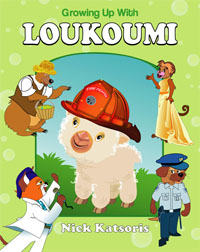 An Eastchester resident, Nick Katsoris is a modern-day Renaissance man.  He is not only a children's book writer, but also a crime novelist, book publisher, and lawyer. The inspiration for Katsoris' first children's book, Loukoumi, was the Greek word "loukoumi", a type of candy in Greece that means "sweet". Loukoumi, the story of a lamb trying to find her way to America, was self-published in March 2005, and sold over 2,000 copies.  This success led Katsoris to create a plush Loukoumi toy, and then to write and publish the next installment.

   "I believe that a children's book should teach a lesson," Katsoris says.  "I want to encourage kids to believe that they can accomplish anything in their lives." 

   In Growing Up with Loukoumi, Katsoris uses animal characters to teach this lesson.  Loukoumi the lamb visits her friends — Gus the bear, Fistiki the cat, Dean the dog, and Marika the monkey — to talk about what they want to be when they grow up.  All have different choices.  Marika wants to be movie star, Dean dreams of becoming a police captain, and Fistiki wants to be a singer. Since animal characters are inherently diverse, children of all races and cultures can relate to them, and therefore, to the universal message they convey:  You can be anything you want to be when you grow up.

   Loukoumi and her friends are simple, likeable characters with appeal to children of many ages. The language is straightforward, easy for a preschooler to understand, and great for beginning readers to read aloud.  After I read the book to my 3-year-old son, he shouted a child's most approving words: "Read it again!"  He also enjoyed listening to the accompanying CD.  My 6-year-old nephew read the words in the book along with me.  His favorite part was a funny image of Loukoumi in sunglasses, dreaming about becoming a movie star.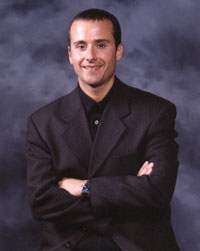 Many successful people contributed to the Growing Up with Loukoumi CD. Although young children might not realize that the celebrities on this 15-minute disc are the embodiment of the book's message, it is still fun for both kids and parents to hear talented performers.  The book's narrator, Grammy-winner Gloria Gaynor, also sings her original song, "Believe". Academy Award-winner Olympia Dukakis is the voice of Marika the monkey and aspiring actress, and is the narrator of the first Loukoumi book, also included on this CD.  Other character voices are CBS correspondent and MarketWatch anchor Alexis Christoforous, American Idol star Constantine Maroulis, and Guiding Light actor Frank Dicopoulos.

   Yet another reason to buy this book: $2 from the proceeds of each book sold will be donated to the Make-a-Wish Foundation. Katsoris chose this organization because he finds it "rewarding to give back to kids," and because the Make-a-Wish Foundation "makes dreams come true."

   Katsoris hopes to continue the Loukoumi series.  His publishing company, NK Publications, is expanding and will release seven titles in the next six months.  The first Loukoumi book is being translated and published in Greece, Spain, and Israel.  Anna Vissi, a Greek pop star, will be narrating the Greek version.  And in the future, Katsoris hopes to animate Loukoumi.

   You can hear Katsoris read Growing Up with Loukoumi on Saturday, January 27, 2007, at 3pm at Barnes and Noble at Central Plaza, 2614 Central Park Ave., Yonkers; (914) 771-6400.