Have your kids put down the video game controls and keep them active by going rock climbing up a climbing wall or hiking on one of the New York City area's many nature trails. Read on for suggestions on where to go, what to bring with you, and how to keep the kids safe during your trip.
As the summer winds down, children and families across the greater metro New York area should begin thinking about taking advantage of the great fall hiking and rock climbing options in and around the city. There are more than 30 outdoor locations in parks throughout the city, about 14 indoor gyms with climbing facilities/walls in the city, and more than 1,000 places to climb in surrounding parks!
With all of these options, some may be overwhelmed; but local experts say it's easy to pick a great place to hike and climb.
New Heights
"One of the great things about rock climbing is that parents and children can climb together starting at any age and continue right into adulthood," says Devin Pardias, Chelsea Piers Field House director of rock climbing. He believes it's important to consider your grou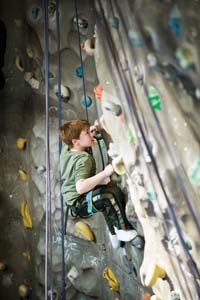 p's past experience, fitness level, and the type of adventure you're looking for when choosing a hiking and climbing trail.
Rock climbing, which boasts a great number of health benefits for both children and adults, is a total body workout that will burn calories, build muscle, improve balance, increase coordination, and boost confidence. It's an excellent form of exercise that can be enjoyed year-round, both indoors and out.
Although it can be a dangerous sport if not approached with caution, after parents have consulted with rock climbing experts and learned about safety, equipment, and climbing technique, they should be able to plan a safe, fun activity for their family. Those who are first getting interested should consider taking a course. Chelsea Piers offers a parent-child climbing class. Brooklyn Boulders, the largest climbing gym in New York City, also offers beginner classes.
Once you've learned the ropes, there are many rock climbing areas that are appropriate for children and families, including some in Central Park. Kids Rock near the Tisch Children's Zoo is a popular location that provides kids with a fun and challenging surface to explore, Pardias says. Centralpark2000.com has more information about great climbing places within the park. Rockclimbing.com also has great climbing locations within the state. Those who have taken classes or practiced at an indoor gym, which many experts recommend, can ask their climbing instructors for assistance choosing a climb that will be appropriate.


Out On The Trails
If you'd prefer to avoid rock climbing but would like to spend time in the outdoors this summer, try hiking in one of the many great parks in the area, including the surprisingly large amount of options on Staten Island. Even very young children can experience health benefits from hiking, which is a great cardio workout that allows you to burn more calories than walking without the pounding impact from running.
"Hiking shows kids that exercise can be fun and that the wilderness can be more exciting than video games," says Kevin Rosenberg, the owner of Park Slope-based Gear to Go Outfitters, a full service outfitter that offers backpacking, hiking, camping, and other gear, including apparel and footwear, for sale or rent.
Although hiking may seem like the safer of the two activities, many of the safety risks that are present when climbing are the same as those that exist when hiking. Parents should double-check all of their equipment and make sure everyone is dressed properly. During the fall, children may need to dress in layers while still wearing a hat and sunscreen to protect themselves from burns.
Parents should bring a small first-aid kit in their backpacks with bandages, antibiotic cream, insect repellant, and any prescription medicines their children may need -- like EpiPens or inhalers -- because first aid may not be readily available on the trail.

Families must be careful to go at a pace that's comfortable for everyone. You should also plan to make a trek that isn't too long for the least experienced member of your group. When choosing a path, pick a clearly marked trail and avoid getting separated from your children. Rosenberg also suggests that parents use a lanyard or accessory cord to attach a whistle to their child's belt. Once they've attached the whistle, instruct children to blow their whistles several times if they're ever in a dangerous situation or get lost.
Once families take the proper precautions, they can find a great hiking experience without journeying too far. The Catskills and Hudson Valley have magnificent hikes for children, says Rosenberg, whose company also offers guided hiking and backpacking trips that include licensed guides and meals.
"There are countless options when you choose to go hiking near the city. One I recommend with children is Anthony's Nose," Rosenberg offers. "It's about an hour north of the city and boasts incredible views of the Hudson Highlands."
Also see: Indoor Rock Climbing Centers In and Near NYC
Hiking Trails for Families: on Staten Island, near NYC, and in Upstate New York