Sam Morrow lost his job as a printer last spring. A single father living in Harlem, Sam had long benefitted from employer-sponsored healthcare for himself and his son Joshua, 12, who suffers from asthma. Through his union, he was contacted about joining COBRA, but discovered the full family coverage would cost him $700 a month.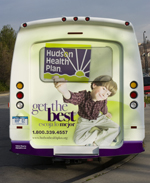 "It would have been too much for me to support, so I couldn't go that route," says Sam. But the possibility of Joshua being uninsured loomed. "Then one day," Sam continued, "I saw a TV commercial with the contact number for Child Health Plus."

New York State's subsidized healthcare plan, Child Health Plus, was expanded in the fall of 2008, raising the income threshold for eligibility from $44,000 (for a family of three) to $70,000. The ad Sam saw was part of a campaign by the state to publicize how widely available Child Health Plus is.

Morrow called the number and was put in touch with a local community organization, which coached him through the application process. Joshua fortunately had enough asthma meds in stock to see him through a weeklong gap in coverage, and the new plan began on the first day of the next month. Morrow is happy with the care Joshua receives. "He has a good dentist, good doctors," he says.

Many people would be surprised by the plan's comprehensiveness. Child Health Plus offers regular checkups, vaccinations, prescriptions, dental and vision care, hospital and emergency care, and more. It is available to every uninsured child age 19 and under in New York State. How much a family pays depends on their income and the number of people in the household. It is free for children in families with the lowest incomes; others pay a monthly premium ranging from $9 to $40 a month per child. Families earning over $70,000 can still buy into Child Health Plus at the full monthly premium rate of around $160, which is more affordable than private health insurance.

Joshua is just one of 9,500 children and teens statewide who have enrolled in Child Health Plus following its expansion last fall. Many of these families were eligible before, but didn't know about it or assumed it was for those with lower incomes. Even so, far too many of New York's children still have no health insurance.
According to the advocacy group MomsRising.org, 1.2 million children in the U.S. lost employer-sponsored health insurance in the last year. In New York State, an estimated 434,000 children and teens lack health insurance — almost half of them in New York City — even though 90 percent would qualify for subsidized coverage under Child Health Plus or Medicaid.

Early in his administration, President Barack Obama may sign legislation aimed at reaching out to these uninsured children — legislation that George Bush twice vetoed. "It shows we have had a sea change in how our elected leaders view healthcare for children," says Kristin Rowe-Finkbeiner of MomsRising.org. "Right now, with parents losing their jobs and losing employer-sponsored health care, this legislation is critical."

When children are not covered by health insurance, a vicious cycle sets in. A study by the Kaiser Family Foundation found that uninsured children miss more school days and have lower cognitive development than insured children, and that they go on to experience poorer health as adults.

Alayna Shalom is a divorced mother of two living in White Plains. When her ex-husband was laid off last Labor Day weekend, she got a shock. "My son had to go to the doctor the day before school started and I discovered the coverage had already ended," she recalls.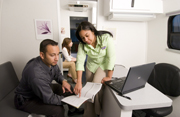 Alayna's children went "bare" for two months, a precarious time that made her realize how differently people use health services when they aren't covered. Previously, Alayna's work had put her in contact with representatives from Hudson Health Plan, a not-for-profit managed care organization based in Tarrytown. "I'd kept their cards never thinking I'd have to use them for my personal life," she says.

Hudson Health Plan's field representatives visited her at home to enroll her in Child Health Plus. She is thrilled with the plan, which costs $30 per month per child. "We were able to keep the same pediatrician," she says, "and Hudson Health Plan sent us a list of local dentists right here in White Plains."

Mark Santiago, of Hudson Health Plan, echoes her enthusiasm. "There is not enough public awareness of Child Health Plus," he says. "A lot of people don't know it exists or think that because it's state-sponsored, the care may not be as good as commercial insurance plans. But our doctors are among the best in the region. A lot of our members tell us that knowing their children are covered gives them peace of mind."

For more info:
• To find a facilitated Child Health Plus enroller in your neighborhood, call the New York State hotline at 1-800 4KIDS (1-800 698 4543).
• For more information about Child Health Plus, visit www.nyhealth.gov/nysdoh/chplus.
• For Hudson Health Plan, call 1-800-339-4557 or visit www.hudsonhealthplan.org.