Download a reading guide to "The Cricket in Times Square," a fiction classic children's book by George Selden based in New York City.
Chester Cricket is a country cricket from Connecticut. But when he decides to get greedy and steal some liverwurst from a picnic basket, he ends up trapped in the basket and is shipped off to New York City! While at the Times Square subway station, Chester makes two friends: Tucker Mouse and Harry Cat. Together, these creatures stir up quite a bit of trouble. They are responsible for missing money from a newspaper stand and even setting it on fire! When Chester gets jailed by his owner's mother, all hope seems lost. But Chester has a hidden talent, and it is soon realized that the country cricket may just be able to teach even the toughest New Yorkers a thing or two.
Download a kids' reading guide to this classic story by clicking on the image below.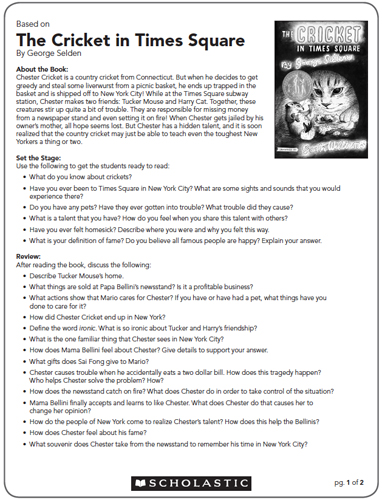 Also see: Visiting Kid Lit Landmarks in NYC
10 Best Children's Books About NYC History
Baby Meets City Mom Blogger Suggests the Best NYC-Based Books for Kids