For parents who feel discouraged by the commercial or religious implications of most holiday shows, many of which are skewed towards Christmas, there is an alternative.
Striking 12
is fun, warm, musical, non-ecumenical, and short, making it an ideal choice for family entertainment.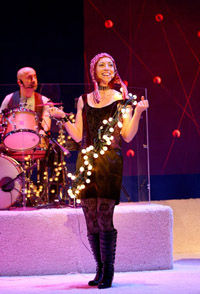 There are three musicians on stage who make up the trio, GrooveLily — Brendan Milburn on keyboard, Gene Lewin on drums, and Valerie Vigoda, who plays electric violin. They play themselves and various characters in the story, which loosely weaves the tale of "The Little Match Girl" around the story of "The Man Who's Had Enough". That man is a grouchy New Yorker who has broken up with his fiancée and is determined to spend New Year's Eve alone in his apartment. But a surprise visit brightens up the night.
Striking 12
is directed by Tony Award winner, Ted Sperling (
The Light in the Piazza, Dirty Rotten Scoundrels
).  The book and lyrics are by Rachel Sheinkin, who won a Tony for
The 25th Annual Putnam County Spelling Bee
. Milburn and Vigoda collaborated on the book and lyrics, and wrote the music.  They are also married and are the parents of a toddler, making this a true family affair.
   There are some funny lines in the show — my 8-year-old laughed aloud when an announcement is made that a TV show is to be preempted by a Law & Order holiday special. Kids 8 and up should have no trouble following the action, and younger children can just enjoy the music, which is quite catchy.

Info
Where:
Daryl Roth Theater, 101 East 15th Street, NYC
When:
Saturdays at 4 and 8pm; Sundays at 3 and 7pm; Mondays, Tuesdays and Fridays at 8pm; Thursdays at 10pm. Through December 31.  Check website for holiday schedule.
How much:
$35-$75
For more info:
www.striking12.com
or Telecharge, (212) 239-6200
Note: 
No one under age 4 is allowed in the theater.