If
A Time for Children
were just a new kids' store, a writer would describe the enticing mix of items for babies, kids and moms.  But owner Margie Stern has done something so extraordinary, no amount of hyperbole is sufficient.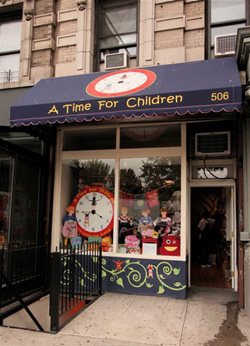 Stern, who runs the Big Wood Foundation (a company dedicated to the welfare of children in New York City and Los Angeles) with her husband, Michael, has created a store that trains New York City teens as sales associates, where they assist in merchandising and retail sales, and get paid.  And the store gives back, with 100 percent of its profits going to the Children's Aid Society.  The Upper West Side community has been amazingly supportive, says Stern, who estimates that the store will donate over $750,000 to the Children's Aid Society in its first year.  
  But as useful as the money is to Children's Aid, it is the teen training program that is so exciting.  The 14 high school kids elected for the program go through intensive training, with role playing workshops where they learn skills including customer relations and sales and marketing.  As Stern points out, these skills are useful in a retail environment, but they're also life skills that can be used in many work situations.  
   After this training, the teens work in the store, helping to choose products, set prices and create displays.  The store manager, a graduate of Children's Aid Society herself, oversees the teens, who are polite, well-mannered, and helpful and knowledgeable about the products.  The teens work in three-month rotations, giving more students an opportunity to learn and earn.  
   Michael Roberts, an assistant division director for Children's Aid Society, explains that the organization works with graduates of the store program to secure internships at large corporations, and is also developing retail partners that will hire its trained salespeople.  The ultimate goal of the Children's Aid Society is to prepare children for college, he notes, adding that the resume building and interview techniques learned on the job can only help in this quest.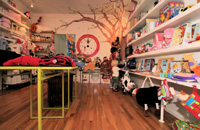 Stern, who raised her children on the Upper West Side, started A Time for Children with an eclectic mix of books, booties, creams and baby bags; the selection is evolving.  Neighborhood children are especially drawn to the animal backpacks and lunch boxes; new parents will love the sweet sweaters and gentle prices.  And if you occasionally experience a pang of guilt (does my child really need another stuffed animal?), at least you know that here, your purchase it supporting a worthy cause.

   A Time for Children is at 506 Amsterdam Avenue, between 84th and 85th Streets.  For store hours, call (212) 580-8202.