ABCS FOR A SMART, SAFE, AND HAPPY HALLOWEEN
Related:
halloween
,
safety tips
,
trick or treat
,
parents
,
kids
,
children
,
guidelines
,
advice
,
rules
,
Suzanne Singleton, author of "Clever Costume Creating for Halloween," offers safety tips and advice for kids and parents on Halloween night.
The Trick-or-Treating "ABCs"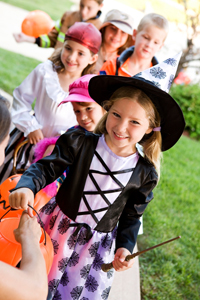 Always trick-or-treat in familiar neighborhoods.
Be as comfortable as possible in your costume.
Carry a flashlight while trick-or-treating.
Do not trick-or-treat at homes where the lights are off.
End the trick or treating at a reasonable hour. Latest suggested quitting time is 9pm. On the flip side, don't start too early-neighbors may not be ready. Earliest suggested starting time is 5pm.
Find any unwrapped candy in the trick-or-treat bag and toss it.
Give away half of the collected candy to the needy. Find out which schools or local organizations have programs that collect candy during the week after Halloween. It is then given to kids who didn't get the chance to celebrate Halloween because of illnesses or disabilities.
Hand out only individually wrapped candy.
In the foyer, set up a small table with baskets of candy ready for trick-or-treaters. Plan for enough. If you're new to a neighborhood, ask the neighbors ahead of time how many trick-or-treaters to expect.
Join in for trick-or-treating at a local mall instead of going door-to-door.
Kindly say "Trick-or-Treat" when the door opens, and "Thank You!" after people give treats.
Little ones should be chaperoned from door to door. Don't send small kids out alone.
Make costumes as comfortable as possible.
No messing up other people's property with soap, toilet paper or smashed pumpkins.
Older kids should not trick-or-treat. Parents should decide what is "too old". The suggested age is 13. After that, teens can hand out the treats instead of collecting them. If teens insist on trick-or-treating, at least make them wear costumes! Or older kids can chaperone little siblings or neighborhood kids while still participating in the process.
Parents, drive kids house to house if homes are too spread apart.
Quantity is not the goal! Go slow while trick-or-treating to stay safe and polite.
Respect people's property. Do not trample on small bushes, flowers and on lighting. Use walkways and driveways.
Stay on sidewalks when walking from house to house instead of walking in the street.
Take off masks while walking between houses.
Use common sense - if wearing a bulky or large costume, put it on after arriving at the party. Be smart and safe when dressing in costume. Do not wear a costume that will impair vision or movement.
Very responsible people do not drink alcohol at Halloween parties and then drive afterwards, especially with children in the car.
Walk around with at least two other people while trick-or-treating.
X-cite the kiddies! Decorate the front door and steps with fun Halloween decor. Dress in costume while handing out the goodies.
Your Halloween party for children and their friends should not be on Halloween night. Kids may rather go trick-or-treating. Unless trick-or-treating as part of the party, plan the festivities for another evening. Consider having it a night or two after Halloween when it's less hectic for most families and the hype of Halloween night is over.
Zip around quicker in a lawn tractor with a pull wagon, or a golf cart. These are perfect vehicles to take kids trick-or-treating in a large neighborhood.
Suzanne Singleton is also the author of Clever Gift Giving and Clever Party Planning (Twenty-Nine Angels Publishing).
More Safety & First Aid Articles
Fire Prevention Week Promotes Working Smoke Alarms
Ask the Expert: What Should I Know About Sudden Cardiac Arrest?
Ask the Expert: What Should I Know About CPR and CPR Training?
Ask the Expert: What are the Booster Seat Requirements for Kids?
Ask the Expert: At What Age Can Children Legally Sit in the Front Seat?