The 2011 Foster Parent Recognition Ceremony, held May 26, honored 51 foster parents for their dedication to New York City youth.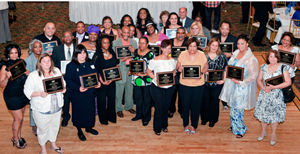 On Thursday, May 26, the Administration for Children's Services (ACS) honored 51 foster and adoptive parents who have demonstrated their dedication and commitment to the children of New York City by opening their hearts and homes to children and youth in care, especially teens, including pregnant and parenting mothers; Lesbian, Gay, Bisexual, Transgender and Questioning (LGBTQ) youth; and children with special needs.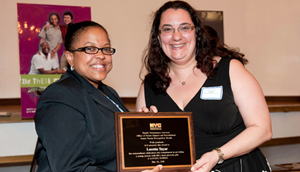 The occasion was the Foster Parent Recognition Ceremony hosted annually by ACS during May, National Foster Care month, which this year was held at the Alhambra Ballroom in Harlem. The foster parents honored were drawn from approximately 26 foster care agencies that provide foster care and adoption services to children in ACS care. Currently, there are approximately 11,000 active foster parents, and ACS is in the midst of a foster parent recruitment campaign to ensure that more homes are readily available to children and young people with special needs or who are hard to place.
Addressing the gathering at the ceremony, ACS Commissioner John Mattingly said, "Without a strong group of committed and qualified foster parents, our goals for permanency would not be possible. Our teens and children need strong foster parents to stand by them and let them know everyday that they are loved and cared for. On behalf of all of us at ACS and the City, I want to express our gratitude to our foster and adoptive parents for being there for our children."
ACS Deputy Commissioner for Family Permanency Services, Lorraine Stephens thanked the honorees for their commitment to children, adding, "We hope that being here tonight has energized you to continue doing the extraordinary work that you're already doing." Stephens presented the awards to the foster parents which commended them for "extraordinary dedication and commitment in providing a young person with life's most precious gift, a loving family."
View the full list of this year's honorees at www.nyc.gov.