It isn't often that a parent will leave a children's production having enjoyed it as much as her kids, but I had that pleasure after seeing the opening performance of Dear Edwina at the DR2 Theatre.  


   Edwina, played by Janice Mays, is a young girl who longs to be recognized for her finely tuned skill of giving advice. When she hears that a talent scout will be in town for the Kalamazoo Advice-a-palooza Festival, quick-thinking Edwina decides to put on a show highlighting her talent, in which her friends read letters from kids seeking her advice. In amusing songs, Edwina dishes out advice on what each of them should do.


   What makes Dear Edwina stand out, besides the comedic talent of its cast, are the songs. Written by Zina Goldrich (music) and Marcy Heisler (lyrics), numbers like "Hola, Lola," which explains how to overcome shyness, and "Put it in the Piggy," an timely tune advising kids how to save money, are so catchy that you can't help but keep the melody in your head well after the show is over. Another witty song teaches kids what to do when offered food they don't like: say no thank you.


   At the heart of the play is Edwina's own dilemma — how to foster recognition for her skills in the midst of her very successful siblings. The moral in the end is about making your dreams come true and appreciating who you are. It's a desire for us all, young and old, and theatergoers are fortunate that the people responsible for this production have provided such a good model.
Info:


Where: DR2 Theatre, 103 East 15th Street (between Union Square East and Irving Place)


When: Through January 25, 2009


How much: $39


For more information: 212-239-6200; www.DearEdwina.com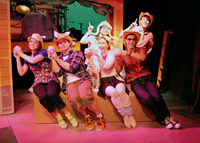 Photo credit: Sandra Coudert
L to R, Janice Mays, Doug Thompson, Shannon Tyo, Katie Whetsell, Ernie Pruneda, and Tyler Adcock, performing the number "Put it in the Piggy."