Al Hirschfeld Goes to School
Get can't-miss family activities sent to you!
Get the Best Family Activities
Sent to You Weekly!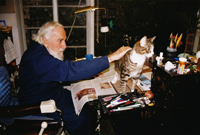 Part of the curriculum for second graders is "Hirschfeld and Visual Arts", in which students are asked to study Hirschfeld's drawing and discuss how he uses line. They are told that Hirschfeld often incorporated his daughter's name, Nina, into his drawings, and they are challenged to find it. They talk about their own theater experiences, i.e., who has seen what plays, what did the actors do, what was the scenery like.

At the 12th grade level, the exercises are more sophisticated. In the section on Hirschfeld and music, seniors are asked to sing "Oh, What a Beautiful Morning" from Oklahoma!, "Tonight" from West Side Story, and "Seasons of Love" from Rent. Then they're asked to discuss the stylistic evolution of these musicals, and to create a soundtrack for a Hirschfeld slide show using contemporary music. The two remaining sections focus on theater and dance. "It's really exciting to have the chance to introduce children to the wonderful dances of Martha Graham and George Balanchine," Louis Hirschfeld says.

In "Be a Caricaturist", students choose a favorite musician and create their own black and white line drawing. They're told to write five words describing the person's outer appearance, five words about how the subject moves, and then a sentence about the subject's personality.

Joel Klein, chancellor of the New York City Department of Education, says, "I look forward to seeing the many creative ways that our teachers use this new resource as a tool to engage students and enrich their understanding of the history of the performing arts in New York City."

When asked about how Al Hirschfeld might feel about the use of his work to spark creativity in thousands of schoolchildren, his widow replied that her late husband would be extremely pleased to be able to give back.