If you have a child who loves Thomas the Tank Engine, finding a cool holiday gift isn't too difficult. Toy store shelves are stacked with Thomas, his many friends, countless accessories, and enough wooden tracks to chug to the moon and back. But if you really want a gift that will knock their socks off, get on track to Strasburg, PA., where kids can climb aboard a life-size Thomas, complete with blinking eyes! Grab your ticket, hop on, and take a 22-minute ride through scenic Pennsylvania Dutch Country. The event, called "A Day Out With Thomas", is held three times a year at the Strasburg Rail Road. Next stop...December 1-3, 2006.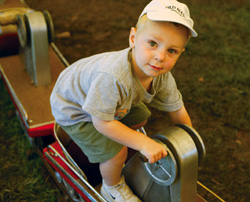 Choo-Choo!
A Day Out With Thomas draws thousands of families each year. Some of the activities kids of all ages can enjoy: Getting pictures taken on Percy — a life-sized blow up version of Thomas's friend; riding the cranky cars, pump cars, a caboose, a pint-sized steam locomotive — the Cagney; getting faux tattoos of Thomas and Friends; meeting
Sir Topham Hatt; and shopping an infinite amount of Thomas merchandise. To learn more and to purchase advance tickets, visit www.strasburgrailroad.com.

Check in
If you plan on staying in Strasburg, The Netherlands Inn & Spa is a great choice for families. Located on 18 acres and surrounded by Amish farms and cornfields, its country-cool, relaxed atmosphere is a breath of fresh air. The Inn & Spa has 104 guest rooms, offers full country breakfast for two (included with the room), and yes, there's a full-service spa on site. The Netherlands has great things in store for the season: an inviting fireplace as guests check in, mulled apple cider in the lobby, and a wonderful winter menu featuring weekly "comfort food" specials. And the inn offers shuttle buses to and from the Strasburg Rail Road throughout the Thomas event, and will reserve seats for strollers. For more information, call 1-800-872-0201, or visit www.netherlandsinn.com.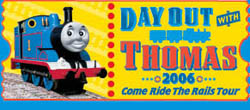 Check out
If you miss the December 1-3 Thomas event, you can still catch the Strasburg Rail Road's "Santa's Paradise Express", a 45-minute train ride, on December 9-10, 14-15, and 16-17 — when the railroad transforms into a winter wonderland with carolers and musicians strolling through the train and, of course, an on-board Santa Claus.
——————————————————————————————————————————————
Sweet Smell of Christmas

The smell of chocolate wafting over Hershey, PA, can put anyone in a holiday mood, but Hershey has other treats in store. Hershey Sweet Lights is a drive-through of 600 illuminated, animated displays.  The woods near Hersheypark are the setting for this nightly display, which runs from November 10-January 1, starting at 5pm each evening.
   At Hersheypark itself, there is Christmas Candylane, with lights, Christmas decorations, and Santa and his reindeer.  Weather permitting, rides are open (no water rides, but there are plenty of other options).
   Keep in mind, Hersheypark celebrates its 100th anniversary in 2007.  On Memorial Day, it will open The Boardwalk at Hersheypark, with five water attractions, including water slides, a huge water play area, and a special toddler pool.  The Boardwalk will also have games, food and shopping, recreating a traditional boardwalk.
   Hershey Sweet Lights is $20 per car; admission to the amusement park, which includes unlimited rides, is $9.95 a person, free for ages 2 and under.
 For more information, go to  www.hersheypa.com.

— J.A.