If there's a train-lover in your family, head to the
Danbury Railway Museum
— a well-kept secret that entertains and educates visitors on the mechanics and history of the railroad, and the role it played in the development of the country.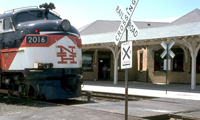 The museum is located in the old Danbury Union Station, which opened in 1903 — when the railroad industry was at its height. The station operated through the 1950s. As the years passed, Danbury Union Station became more decrepit as tight budgets made it impossible to finance repairs. Finally, in 1993, Metro-North abandoned the station in favor of a trailer set 100 yards to the south, and the freight yard was also closed. But Danbury Mayor Gene Eriquez was pursuing ideas that would bring life back to downtown Danbury, and in 1994, a $1.5 million grant was obtained for the restoration of the station. The Danbury Railway Museum was born.
   The non-profit museum is run entirely by volunteers, but that doesn't keep them from aspiring to the successes of other railway museums throughout the country.  With model train layouts that run at the push of a button, and interpretive exhibits of historic train artifacts like headlamps and railroad tools, as well as photographs of railway days gone by, the museum's inside is exciting and interesting for the whole family. Two train tables with trains, as well as several train-oriented toys, are also available for smaller kids to enjoy.
The best reason to visit the museum, though, is the six-acre rail yard that houses various train cars and trains, from steam to diesel, and passenger to freight. Through years of volunteer work, defunct Metro-North switches were removed and tracks were re-arranged. Because the museum had no track machines, volunteers used 19th century methods, employing hand tools to complete the work. Today, there are over 70 antique locomotives and cars, and the only operating turntable in Connecticut, on which visitors can take a ride.  While parents may be more interested in hearing about the history of each of the cars, kids will enjoy climbing in and seeing where the conductors slept, cooked, washed and ate, while doing double shifts on the rails. Train rides are available for a small extra charge from April through December. There are also blacksmiths on hand to demonstrate their techniques at a vintage railroad forge, and regular events are scheduled throughout each season.
   Friendly volunteers are happy to answer questions and provide information, and the gift shop is well stocked with all things train-related, for kids and adults.  There are also plenty of restaurants in nearby, restored downtown Danbury.
This month, take a vintage train ride through the yard for a visit with Santa in his own private railcar. Meet Mrs. Claus, Mr. Frosty and Santa's helpers, and receive a small gift from Santa. There will be outdoor light displays, music and more. Admission is $7, ages 2 & up. December 3, 9, 10, 16, and 17, 2006; noon-4pm.
Info:
Where:
The museum is located at 120 White Street in Danbury.
When:
November to March, Wednesday-Saturday, 10am-5pm; Sunday, 12-5pm. Closed Monday and Tuesday.
How much:
$6, adults; $4, children ages 3-12; children under 3 FREE. (Additional charge for train ride; prices may vary for Special Events).
For more info:
(203) 778-8337;
www.danbury.org/drm