Mothers of daughters have it easy; there are lots of adorable clothes for girls. But it's a different story for moms of little boys, and Ellen Wolpin — with twin sons Max and Zack, now 4 — was in double trouble.

   So last April, the Upper West Side mom launched Pure Boy Clothes.  This online shop site (www.PureBoyClothes.com) features a range of apparel just for boys, from dressy holiday outfits to casual selections to wear to the park.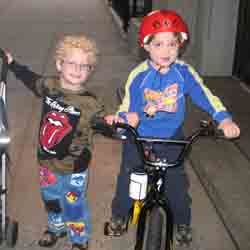 Pure Boy started out with sizes 2-6, but quickly expanded and now offers sizes 12 months-10 years. "I had people ecstatic that they had finally found fun and fashionable clothes, only to discover that their boys were too young or too old for our sizing.  I got lots of email from angry mothers," Wolpin recalls. Now, one of her greatest thrills is the gratitude she gets from moms for making it easier to shop for their boys. And, she notes, "Max has been told he's the best-dressed kid in school!"

   Pure Boy's variety was inspired by the differing fashion sense in her own household; Max has been picking out his clothes since he was 2, but, she explains, "Zack goes with what Max is wearing."  Even though they wear different sizes, they do share clothing, but Wolpin says she tries not to dress them in matching outfits.

   Before having kids, Wolpin was an accountant, a skill that comes in handy running a business.  And the whole family is involved in Pure Boy. Max and Zack wear the clothes. "They are my advertising," says their mom.  And Jaime, her husband, takes the photos for the website, and handles the technology side.
 
   Although the city has its share of boutiques specializing in children's clothes, Wolpin notes that boys' choices are limited; choices are either very basic or too fancy to wear when playing. All the boys at the playground dressed in the same Gap garb inspired her to seek out more creative choices. Pure Boy offers a large but well-edited assortment of reasonably priced, unique apparel, from T-shirts to leather jackets, colorful pajamas, and little boy boxers. Wolpin explains that, with easy access to Manhattan showrooms, it is relatively simple to run a clothing business in New York City.

   Ellen Wolpin always knew she would work after having kids, but didn't want to return to accounting because it was difficult to do so part-time.  Ironically, her online boutique is proving so popular that it is turning into a full-time job. Luckily, she says, the flexible hours mean she can still spend time with her favorite models — her boys.