Wendell Jamieson
, city editor of
The New York Times
, knows how to ask questions.  But when his son, Dean, started asking him offbeat ones, like "What does it feel like to be stabbed?", Jamieson decided to rely on the experts.  A well-received article in the Times expanded into a book, and the result is
Father Knows Less
,
or
"
Can I Cook my Sister?" One Dad's Quest to Answer His Son's Most Baffling Questions
(Putnam, $24.95).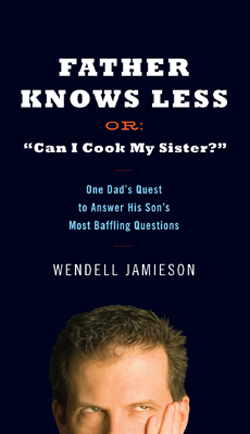 Jamieson, a Brooklyn native who lives in Cobble Hill with his wife, author Helene Stapinksi, and children Dean, now 7, and Paulina, 3, went beyond the original constraints of the title to include mind-boggling questions asked by other children as well, including his 5-year-old self. 
   The question that opens the book is the one the author asked his father at age 5: "Why is the highway so loud?" His father responded: "Because all the people who live next door to the highway have their vacuum cleaners on."  Jamieson knew his father was making up answers, so he pledged to find out the most truthful responses to his own inquisitive child.  Because Jamieson didn't have people like Yoko Ono or Ed Koch on speed dial, young Dean sometimes had to wait for an answer, and frequently forgot about the question by the time the answer was found.   
   The book is laugh-aloud funny at times. For example:
 "Is hummus like dinosaur poop?" (as I dipped a piece of pita bread in hummus).
My answer:
"No. That's disgusting.  Don't say that again."  
  But then Jamieson goes on to get a scientific explanation from the curator of dinosaur paleontology at the American Museum of Natural History.
   Jamieson, who grew up in Park Slope, says he "could never imagine" living anywhere but Brooklyn. The book is part memoir, of Jamieson's Brooklyn childhood and that of his kids.  He gives a beautiful description of how the architectural splendor of Brownstone Brooklyn led to the disintegration of the families within.  "It was as though the reality of being married and having children could never live up to the ideal of a happy home carved into those details; the houses mocked the stressed families living in them and set a standard of perfection that could never be attained by humans."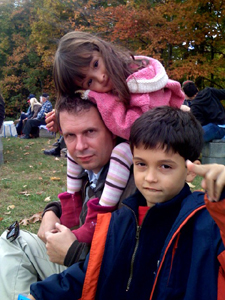 In the book, Jamieson also writes about spending time at the Natural History Museum, both as a child and as a parent with his son.  He says he spends "idiosyncratic, only-in-New York" days with Dean, eating at the Red Hook soccer field, both of them getting their hair cut at Astor Place (where Jamieson would be taken as a boy).  Though Paulina is too young to have come on many of the father-son adventures (like an overnight train ride to see the dinosaur, Sue, in Chicago) she did join the two of them on a toy rocket launch, replicating a father/son moment from Jamieson's childhood.  
   Dean actually did ask why he couldn't cook his sister, one day when she was having a tantrum.  He is set straight by an archeologist: "You cannot just cook and eat your sister because your father is trying to civilize you. You would find it existentially upsetting."  Readers of Father Knows Less will find the questions — and answers — existentially enjoyable.
NOTE:
   Jamieson is planning a second edition of the book and is collecting questions on his website,
www.fatherknowslessbook.com
.