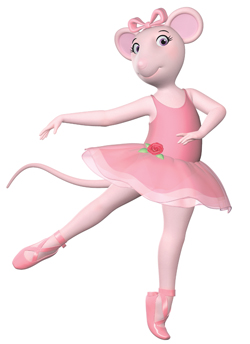 This fall, the popular PBS Kids show, Angelina Ballerina, will be translated into CGI animation, giving the series a fresh look for a new era of Angelina. Angelina Ballerina: The Next Steps follows the adventures of Angelina Mouseling, a tiny but passionate mouse who loves to dance more than anything else in the world. Angelina dances every chance she gets and sometimes forgets about her other duties, like cleaning her room. But she always vows to put her best toe forward in all that she does, and learns from her mistakes.
The show is based on the beloved 23-book series by author Katharine Holabird and illustrator Helen Craig, which celebrated its 25th anniversary last year.
In the new television series, the now 8-year-old Angelina and the Mouseling family move to a new neighborhood on the other side of Chipping Cheddar, where Angelina enrolls in the Camembert Academy for the Performing Arts. A new school brings new friends, a new teacher, Ms. Mimi, and new styles of dance, including modern, tap, jazz, classic, and ethnic, along with Angelina's all-time favorite, ballet. A few old friends accompany Angelina on her new adventures, including Alice Nimbletoes, Angelina's optimistic best friend, and Polly Mouseling, Angelina's adoring 4-year-old sister. Angelina also runs into some new friends at Camembert Academy, including Vici, a fun-loving mouse who loves ethnic dance; Marco, an athletic student from Costa Mousa who brings out Angelina's reckless side; and Angelina's favorite rival, the slightly self-absorbed Gracie, who loves the spotlight just as much as Angelina. Together with her cast of peers, Angelina experiences both the joys and frustrations of growing up and reaching for her dreams.
The dance styles and curriculum portrayed in Angelina Ballerina have been constructed with the help of a team of dance consultants, to ensure the choreography is translated correctly and is age-appropriate for the characters and audience. Recreating the show in CGI will also make it easier for viewers to follow along. "The new animation allows us to demonstrate a full-range of dance styles and movements like never before," says Karen Barnes, the show's executive producer, in a press release. "With the renewed popularity of dance in the U.S., the dance, music, and performance elements of this new series will resonate with children and inspire them to pursue their dreams, just as Angelina Ballerina has always pursued her big dreams."
Angelina Ballerina: The Next Steps premieres as a weekly series September 7 on PBS Kids. In the New York market, Angelina airs Monday - Friday at 10:30am on WNET and at 4pm on WLIW. For more information on the show, visit www.pbskids.org/angelinaballerina.