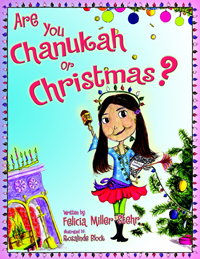 Are You Chanukah or Christmas?
is a new book by Felicia Miller-Stehr that looks at both holidays through the eyes of an inquisitive young girl, Sofia. It addresses questions children may have about these holidays. Who celebrates each? Are there people who celebrate both? And, perhaps most important, what is the true meaning behind these celebrations? The colorful, whimsically illustrated book is written in rhyme and aimed at ages 2-7.
   Sofia, who lives in New York City, gets the answers to these questions as she asks an assortment of people, Are you Chanukah or Christmas?  One woman she asks tells her she celebrates Chanukah, and lights a gold and silver menorah. A man says he celebrates Christmas and that he jumps out of bed Christmas morning to open presents under the tree. When Sofia asks a taxi driver which holiday he celebrates, his response perhaps best sums up the meaning of the season. He says he and his girlfriend help out at a shelter for those less fortunate, because holiday time is the time to share. Then a little boy asks how she celebrates the holidays, and she says she celebrates Christmas and Chanukah, with a menorah and a Christmas tree. The message is that whatever holiday one celebrates, ringing it in with loved ones is what gives it meaning and importance.
   Miller-Stehr, a television producer and talent executive, lives in Manhattan with husband Andy and daughters Sofia (the book's namesake), 7, and Maya, 4. She says she was inspired to write the book when Sofia was in kindergarten and started to ask questions.
   "Our family is Jewish so we celebrate Chanukah, but Sofia began to have a curiosity about who celebrates that and who celebrates Christmas," she says. "Families where the parents are of different religions and who celebrate both holidays are especially prevalent in New York City, so I told Sofia that everyone has their own traditions. I told her that we all are essentially the same but some people celebrate differently from others. What I want to get across is that the universal message of Christmas and Chanukah is love."
   Terry Spina's family is one that celebrates both holidays. Terry, who lives in Manhattan, is Jewish, and husband, Ralph, is of Italian descent. Consequently, son Ralphie, who is 9, has been exposed to both celebrations.
   "We recognize both holidays, but in a traditional and not a religious sense," Spina says. "I was concerned at first that Christmas would outweigh Chanukah for him, but it turns out he loves Chanukah!" 
   Spina says she has read Miller-Stehr's book – their kids attend the same school – and plans on sharing it with Ralphie. "I want him to get a sense that there are indeed families similar to ours who celebrate both holidays," she says.
   She found the book "very touching," and says it presents a nice overview of what the holidays are about. "As children get older, even if their families aren't religious, I think it's important for them to feel connected to something. I talk to Ralphie a lot about spirituality and how giving is so important to both Christmas and Chanukah."
   Miller-Stehr hopes her book conveys a serious message in a fun way. "The drawings bring the story to life, I think," she says of the illustrations by Rosalinde Block. "I hope the book conveys how special it is to be with family and loved ones for whatever holiday – Christmas or Chanukah –  that you celebrate."
   Are You Chanukah or Christmas?  can be ordered through www.authorhouse.com or www.areyouchanukahorchristmas.com.