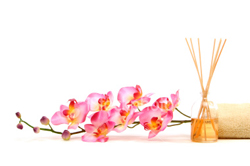 My introduction to
aromatherap
y happened when my son had a stubborn case of ringworm. We had already seen the doctor and tried many prescriptions, but the ringworm kept growing. One day I made a trip down the book aisle of the local health food store that would forever change our family. Every book I opened recommended tea tree essential oil for ringworm. I invested in a bottle in the hopes that just maybe, aromatherapy would have some merit. Three days later, the ringworm was gone and I was on the road that would eventually end with my becoming a certified and registered aromatherapist.
   Aromatherapy has since become a way of life and a business for my family. Today when my kids ask for medicine for their "owie," they are referring to lavender essential oil.
   They are true believers by way of experience. A few years ago my daughters had decided to play with the light bulb in their bedside lamp one night. We were alerted of their activity by the shrieks of terror coming from their room. My 4-year-old had put her wet hand onto the bulb. Her palm had already formed a blister and she was hysterical. I applied a small amount of lavender to my hand and rubbed it into her hair to calm her. I then poured straight lavender essential oil onto her burn and wrapped her hand up tightly. She promptly fell deeply asleep.
   In the morning she unwrapped her hand and was surprised to find that she had no pain and no blister. Her wounds had vanished overnight. She ran into my room and displayed her hand to me with disbelief, exclaiming, "Look, Mommy, your medicine worked!" After years of similar, nearly miraculous experiences with essential oils, I had no doubt that my "medicine" would work.
   How does aromatherapy work topically?  Skin is a living and dying organ, our largest organ, that allows substances like essential oils, with small molecular structures and low molecular weight, to penetrate it. The essential oils are then carried away by the capillary blood circulating in the dermis. Essential oils stimulate circulation to the surface skin cells, encouraging cell regeneration and the formation of new skin cells.
   No home is complete without at least two essential oils in your aromatherapy emergency kit and beauty cabinet. Lavender and tea tree essential oils are the most popular and most common, and will be the antidote for most everything you will encounter. They are also the only two essential oils that can be used neat (straight on the skin) in most cases. All other essential oils must be diluted into carrier oil, lotion or other product.
   Lavender essential oil has been used for everything from dermatitis and eczema, to sunburn, insect bites, headaches, migraine, rashes, insomnia, infections, arthritis, anxiety, tension, panic, hysteria, fatigue burns, psoriasis, scars, all problems concerning splitting of dermis and epidermis, and soothing skin. It is effective in treating infected hair follicles and other minor skin conditions, pimples, blackheads and light forms of acne. It is good for all skin types and balances sebum. Lavender is an excellent and safe children's remedy for ailments including rashes, bumps and bruises, and sleeplessness. And if you are not getting your beauty rest, put a small amount of lavender essential oil onto a cotton ball and slip it into your pillowcase.
   Tea tree oil has historic uses for rashes, insect bites, nail fungus, dermatitis, ringworm, head lice, sore throats, boils, congestion, wounds, arthritis, cold sores, and a wide spectrum of infections. Tea tree encourages regeneration of scar tissue and reduces swelling. For treating acne, it acts as an oil-controlling agent and has high germicidal value. It also has the property to penetrate pus by mixing with it, which liquefies the pus causing it to slough off, leaving a healthy surface. Make sure to use tea tree oil  correctly.
   So next time you have a headache, your child is not in the mood to "go night night," or your face suddenly breaks out with one big red pimple on the tip of your nose, turn to earth's gifts of lavender and tea tree essential oils. Remember, of course, that fragrance oils are not a substitute for essential oils. Begin today to enjoy all of the benefits of aromatherapy.
KAYLA FIORAVANTI, RA, is the chief formulator and co-founder of Essential Wholesale, Essential Labs, and von Natur. For more info: www.essentialwholesale.com.