Getting fresh, the parent's lament, has taken on a whole new meaning in Park Slope.  Two local women have just opened Get Fresh, a take-out shop with prepared food that you finish cooking at home.
Kelley Roy
and
Caroll Lee
don't have backgrounds in food, but they both had busy lives and wanted to make it easier for others to eat healthy food.  Lee, the mother of a 2-year-old, also wanted to create a place where parents could find fresh take-out food for their children.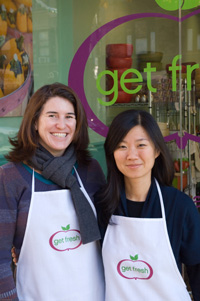 Their food is sourced from local farms as much as possible, and the seasonal menu reflects that; winter choices include chicken potpie and a wild rice pilaf with pumpkin and leeks.  This being Park Slope, many local toddlers will be pleased with this fare; there is also mac 'n' cheese with artisanal cheddar, and spinach lasagna.  Food is coded with the ease of preparation: Some you just pop in the oven; others require two pans, like the fish in curry sauce or the pumpkin ravioli.  Recipes were created with chef consultant Sara Jenkins; Roy says she and Lee support farmers' markets and want to cut out a few steps to make it easier for people to eat well.
   Though the women are committed to using local and organic foods, the prices are in line with other take-out options that do not use such high-quality ingredients.  Soups are about $4.50 for one serving, or $9 for two to three generous helpings.  Meat is from purveyors who raise animals humanely; the beef stew uses grass-fed beef from Dines Farm and the Wild Edibles fish is line-caught.
   The environmental philosophy espoused by the food carries over into the delivery system.  Food is delivered by bicycle; even with the delivery area expanding to include most parts of Brooklyn, sustainable delivery options will continue, assures Roy.  The company is testing eco-options for Manhattan delivery. Packaging is in biodegradable and compostable materials, which can be returned to the store or picked up with your next order.
   This month, they introduced kids' lunch boxes, with sandwiches like tuna, curried egg and chicken salads, served with local Red Jacket Orchards juice.
   Get Fresh also sells products by other local food purveyors:  pickles from Rick's Picks, GuS soda and 5 Boroughs ice cream.  Dessert options include local chocolates.  You can also bake your own cookies; Get Fresh has three kinds of frozen cookie dough so you can have 'homemade cookies' in 15 minutes, with no dirty bowls.
   Get Fresh recently introduced nutrition classes, held every other Saturday, and designed for parents with young children.  Topics include starting solids and strategies for picky eaters.  This month, they're starting cooking classes for kids; eventually, there will be classes for all ages.
   Get Fresh is at 370 5th Avenue.  You can order by phone, (718) 360-8469, or online for same-day delivery. Go to
www.getfreshnyc.com
for more information.