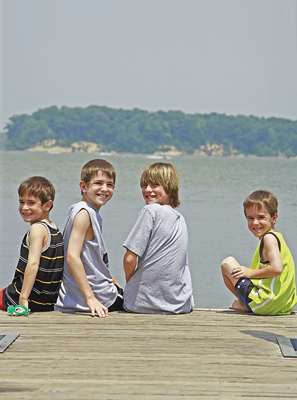 The American Camp Association's website lists more than 50 items kids should pack for camp, all under the (ironic?) heading, "Travel Light." If you're getting ready to send your child off to camp this summer, you've probably realized by this point that camp prep is no joke. First you had to choose the perfect camp for your little guy - day camp or overnight? Specialty camp or traditional? One week or one month? And now that the great school-summer switch is fast approaching, it's time to make sure you have all the answers and equipment you need to make this camp season a success.
Whether it's your first or fifth round with summer camp this year, heed the advice below for less stress at the starting line. To help you avoid that slap-on-the-forehead, turn-the-car-around moment, we asked:
What is the one thing you wish all parents knew before sending their child(ren) to camp?
"Don't forget sneakers and sunblock. Keep communication lines open between yourself and the camp's counselor and director about your expectations. No peanuts!"
- Aaron Britton, school-age childcare and camp director, Wilton Family Y, Wilton, CT
"As a psychiatrist who studies the way the diet contributes to behavioral problems and learning disabilities, I wish all parents sending their kids to camp knew that if they would first eliminate the 'junk' in their child's diet (sugary foods, especially the ones with artificial colors, flavors, and preservatives), there could very well be both a major reduction in their child's distractibility and restlessness and a major improvement in his social skills, as he would be better able to take teasing and to 'go with the flow.' Changes in diet could also stop bedwetting.
The Feingold Association offers a great deal of information and support on many of the diet changes needed, but sometimes it's necessary to eliminate additional foods that the Feingold Diet does not cover. Your child, like many millions of other children, may be negatively affected by the industrial chemicals added to so much of our food. But an appropriate change in diet - instituted before camp starts - will help your child have a much happier camp experience by avoiding crises that the offending foods would
otherwise provoke."
- Richard M. Carlton, M.D., psychiatrist, Feingold Association of the United States, Rocky Point, NY
Also see: Our Camp Guide for the New York metro area