If your child loves Sesame Street, Beaches' ultra all-inclusive resorts (with their live Sesame Street shows) are the ideal family vacation. But even if your kid has outgrown "the Street," or was never much of a fan, Beaches caters so well to the family market that a vacation here is truly everything a vacation should be — adventurous, restful, and a time to reconnect, and meet other families.
I visited Turks & Caicos (part of the British West Indies, near the Bahamas), with my 7-year-old, Nora.
The 'ultra-inclusive' concept means you don't pay extra for snacks and drinks; even at the swim-up bar, adults can have unlimited top-shelf drinks. Kids have a swim-up bar at the pool with water slides; there are smoothies or ice cream, which you can devour right in the pool.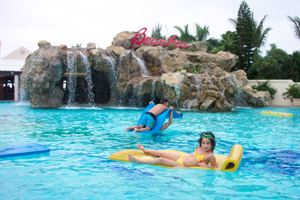 There are a variety of restaurants — from buffets, to Southwestern cuisine, to a Japanese restaurant and attached sushi bar. A particularly nice touch is the café in the "French Village" section of the resort — you can stop in for an espresso or pastry any time. The resort is fairly casual, so you don't have to dress up, or force your kids to abandon flip flops or T-shirts for dinner.
Most flights from NYC stop in Miami, but American Airlines does have limited non-stop service, a quick two-and-a-half hour flight. Beaches shuttles you to and from the resort.
Turks & Caicos is well known to divers, and equipment is available to certified divers, but young kids can take advantage of the free snorkeling gear that you can borrow; the water is so clear, that even close to shore, you can see fish and coral. The highlight of the trip, for Nora, was the snorkeling we did.
There are also sailboats, kayaks and 'aquatrikes' — tricycles that you pedal in the water — that you can sign out. Landlubbers can borrow a variety of board games.
Kids can spend their days in the kids' clubs; there is a preschool area, Cuda Kids, for up to age 5; and Pirates Island, which has separate groups for kids 6-8 and 9-12. Children get plenty of outdoor play; for the young kids, there is a baby pool with sprays and a small climbing structure. Older kids spend lots of time at the water slides and play games like Capture the Flag and Ultimate Frisbee. Nora took a tennis lesson; there are lighted tennis courts, with free usage. Kids' clubs operate from 9am-noon and 1-6pm; after 6pm, babysitting costs extra.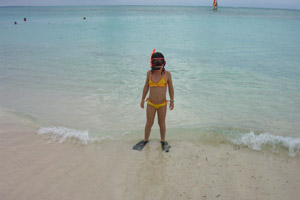 Teens can hang out at the Xbox Game Oasis, which has free games. There are also organized activities for them, like beach volleyball and nighttime bonfires.
While Beaches is a kid haven, adults are not out of the planning. There are several adult-only restaurants and a small casino and nighttime adult disco. And there is a spa, offering the latest treatments, and a fitness center. The staff is friendly and attentive; if you are on the beach, someone walks around offering cold drinks (included — not like on a cruise, where you are practically harassed to buy drinks all day long). There are also group activities, like beach Olympics, bingo, and reggae dance lessons. We learned to play water balloon volleyball, where two players have to catch water balloons in towels.
Every week, Beaches has two live Sesame Street live shows. Nora declared herself too old for such nonsense, but when she heard the show starting up from her perch at the sushi bar, she insisted we move to a better spot, and she stayed for the whole show. She was disappointed when the next show was canceled due to a tropical storm. Other 'Street' events include character appearances by Elmo and Zoe, cookie decorating and story time.
Beaches also offers special themed weeks, with parenting seminars and extra Sesame Street activities for kids, including a Gordon and Elmo show.
For more information, go to www.beaches.com.