Contemplating a day trip with the family that's not too distant, yet far enough away to make the kids feel like they are out of their element? Consider
Atlantis Marine World
in Riverhead, where nature and science, blend with legend and entertainment for a fun, under the sea adventure.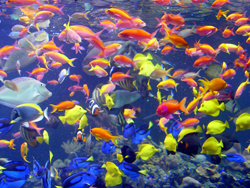 Each year, a crush of day-trippers motor through this Suffolk county town, heading for pumpkin farms and apple orchards. But true intrigue lies right here in the heart of Riverhead, where more than 400,000 visitors annually—those with children and strollers, cameras and coolers—travel directly to Main Street to explore the Lost City of Atlantis (wink, wink). Here, the mythical Greek city, believed to have sunk to the bottom of the ocean, is recreated in a colorful, kid-friendly environment.
   In a cavernous, yet ethereal setting, visitors can watch Red-bellied piranhas and electric eels soar through the waters, and ferocious sharks dart about in a 120,000-gallon, glass-enclosed exhibit. But there are friendly, entertaining creatures to examine as well. This hands-on learning center houses Southern stingrays in Ray Bay. As they swim about, swaying their disc-like bodies to and fro, children can safely poke their fingers into the water (stingers have been removed) and pet their scaly backs and long, pointy tails. 
  Moving along past stunning displays of tropical fish in vibrant hues of pink, green, yellow and blue, children will want to stop and watch as the Aquarium's California Sea lions spin and twirl and dance gracefully in front of the viewing windows of the Sea Lion tank. For more fun, grab a seat at the Coliseum, where 'year-round (weather permitting) these playful characters put on an entertaining show for the whole family.
   Hungry? Tired? Need a break? Grab a meal in the Café where kids can munch on chicken fingers, wraps, salads and other treats. Or, bring your own spread and lay claim to a picnic table. Steps away, there's an ice cream parlor, souvenir shop and indoor arcade to explore.
  Aside from the Penguin Pavilion and Poseidon's Treasure Room, there are many more interesting and daring highlights you'll want to share with the family. They include:
   • Unearthing Atlantis: Go excavating like a real archaeologist and dig for fossils and other specimens.
   • Atlantis Explorer Tour Boat: an ecological trip along the Peconic River.
   • Pirate Snorkel Adventure: an underwater experience for ages 7 and up.
   • Shark Dive: ages 12 and up, accompanied by a dive master.
   • Discovery Tower Ride: a fun way to take in an aerial view of the grounds.
TIP
: Visiting with toddlers? For a leisurely experience, plan to come weekdays, after 1pm, when school groups have left the premises.   
Atlantis Marine World Aquarium is located at 431 East Main Street in Riverhead. It is open daily from 9am-5pm and is stroller and wheelchair accessible. To learn more call 631-208-9200 or visit the website,
www.atlantismarineworld.com
, where you can also purchase tickets prior to your visit.
(Photo: Courtesy of Atlantis Marine World Aquarium)