SUSHI SAVVY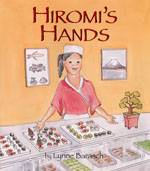 Hiromi's Hands (Lee & Low Books, $17.95) is an engaging picture book, about a Japanese immigrant, and more importantly, one of the first female sushi chefs. Written and illustrated by Lynne Barasch, mother of a kindergarten friend of the real life Hiromi, it includes a glossary and pronunciation guide. For ages 4-8.
CLEAN PLAY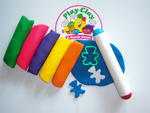 Play Clay is today's Play-Doh, a clay made from organic products that doesn't stain clothes, stick to the carpet or harden. For ages 2 and up, it comes in seven colors and scents, and is made in the U.S.  Part of the profits go to charities like Feed The Children, Ronald McDonald House and World Vision.  Prices range from $2.50 (for a small tube) to  $25 (for an elaborate kit). www.playclayfactory.com.
CUSTOM JOB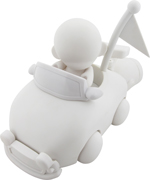 Kids can create their own car, the Mini MUNNY Mobile — a blank slate vehicle which comes with a giant paper track you can color in with pen, crayon or marker.  To ensure that each vehicle is unique, each comes with mystery parts: a flag, wheel or headlight grille.  For ages 4 and up, $39.95 at Kidrobot Soho, NYC, or www.kidrobot.com/munny.

 
YOUNG ADVENTURERS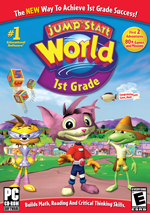 Knowledge Adventure, producer of Jump Start computer games, has a new series, JumpStart World, for K-2.  Kids go on 'adventures' to learn, and earn badges.  Each game comes with two adventure packs, and there are 10 more adventures per grade.  Bright colorful animation helps teach math and reading.  Parents can personalize their child's "world" by plugging in birthdays and sending kids' messages.  Games are $19.99 each at www.jumpstartworld.com; additional game packs are $7.99 each.
KID ROCK
   Roger Day's new CD, Dream Big!, exhorts kids to "sing loud, jump high, dream big!" His kiddie rock includes witty lyrics along the lines of ''"He was scared that he would get stung/Just because his epidermis was young" from "Zachary Hated Bumblebees"; and from "As a Matter of Fact, Jack, I Like Yaks":  "Big fat and furry/They're never in a hurry/They always like to wander/With the Dalai Lama."  Buddy Holly's back-ups, the Crickets, are on one track; on another, a gentle rap encourages kids to turn off the TV.  The CD, all original music, is $15 at Cdbaby.com.