Five families in the New York area, including Westchester County, receive autism service dogs through the Guiding Eyes' Heeling Autism program.
Linda and Jay Forcello of Hyde Park have tried countless therapies over the years to help their son Sean, who has autism—all without much success. At 10 years old, Sean has limited verbal abilities, bolts in public, is anxious, and never interacts with his peers. Worried about their son's condition, the Forcellos turned to Guiding Eyes for the Blind, a national leader in the guide dog field.
In late September, the Forcellos and four other local families were invited to Guiding Eyes' headquarters in Yorktown Heights for a special "graduation" ceremony where they celebrated their children's new autism service dogs. These pups were part of Guiding Eyes' Heeling Autism program, which trains dogs into special companions for kids with autism, keeping them safe while helping them develop lasting emotional and social bonds. Sean's new service dog, a black Labrador named Daryl, has been trained especially for him, to help him experience a meaningful relationship where verbal communication is not important.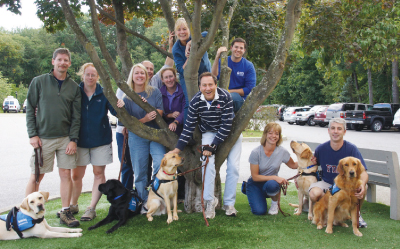 Left to right: Jem and Cindy Fountain of Stamford, CT with guide dog Gabriel; Linda and Jay Forcello of Hyde Park with guide dog Daryl; Heeling Autism instructor Maureen Mellett; Heeling Autism program director Caroline Sandler; David Browne of Westport, CT with guide dog Gibbs; Heeling Autism assistant Michael Balas; Tammy Gauthier of Terryville, CT with guide dog Indo; and Joe Dolan of New City with guide dog Nixon. Courtesy Guiding Eyes for the Blind.
Since launching in 2008, Guiding Eyes has placed 43 dogs through the Heeling Autism program, at no cost to the recipient families. Recipients of these pups have reported improvements in areas including bolting behaviors, verbal abilities, sleeping patterns, and social interactions. "Every day, we understand more about the exponential powers of our dogs and marvel at the impact they'll have in their new homes," says Caroline Sandle, director of the Heeling Autism program. "They'll help children and their parents, they will support siblings and friends, and they'll strengthen families' connections with their communities."
For more information on Guiding Eyes' Heeling Autism program, call 914-243-2208 or visit guidingeyes.org.