A joyful look at four little ones

just beginning their journey through the world.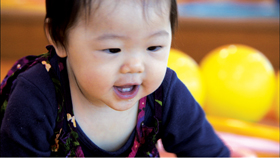 Mari is playing with her toys on the floor of her family's home in Tokyo. She's only a few months old, and, try as she may, she doesn't quite have the motor skills she needs to competently put the stick part of the toy into the donut-shaped part of the toy. After several failed attempts and one almost-got-it, Mari throws both uncooperative pieces across the rug, tosses her little arms in the air, and wails with the frustration of someone months beyond her age. The following tantrum includes more flailing, rolling around on the floor, stomping of feet, and the most endearing, exasperated howling that can't help but raise a chuckle in anyone watching.
Though Mari is growing up in a city across the globe, her actions aren't foreign to anyone who's been around a cranky tot before. And, though you don't know her, Mari's story is in a way universal, as a human being growing up in the world. Her story and that of three other tiny homo sapiens is told in Babies, a different kind of documentary from Focus Features, set to release in select theaters May 7.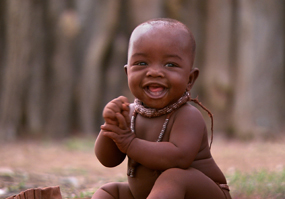 The film is the brainchild of Producer Alain Chabat, a leading comedy filmmaker in France. "I had this idea...about watching on a big screen babies growing - without any commentary, but with music. I felt it could be an emotional experience."
Chabat and his team spent 400 days shooting these four babies - Mari in Tokyo, Ponijao in Namibia, Bayarjargal in Mongolia, and Hattie in San Francisco - over a period of two years (2006-2008). The result was about 400 hours of footage, which took another two years to edit down to just 79 minutes. In just over an hour, viewers watch these tots open their eyes to the world for the first time, say their first words, and stumble through their first steps.
"It's 100 percent pure observation, because we were filming human beings who had no understanding of what the camera was," says Thomas Balmés, the film's director. "I believe we have created a story detached from people analyzing 'What should I say?' and 'How should I behave?' and gotten something purely natural, like primary colors or primary elements."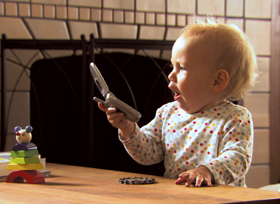 Along the way, the audience also shares in some memorable moments, like Mari's hilarious tantrum and the first time Ponijao takes a vested interest in the ever-present nudity around her, including, specifically, her brother's...extra appendage. After reaching over to inspect the puzzling body part, Ponijao lifts up her loincloth to find that she lacks a similar anatomy.
During the montage-like storyline, four different environments serve as the film's setting - the Namibian desert, the plains of Mongolia, and the busy city streets of Tokyo and San Francisco - and viewers get a peek at some intriguing cultural differences in child-rearing. The film is visually stunning, having been shot with HD cameras, intriguing, and generally entertaining, but beyond that, it shows a certain lack of agenda. "I felt we could show the commonalities as well as the differences among these babies," Chabat says. "The movie was never going to be judgmental about one family or another, comparing them with an on-the-nose "statement.""
Rather, the film simply strives to capture the earliest moments of these babies, to document the beginning of their journey in the world.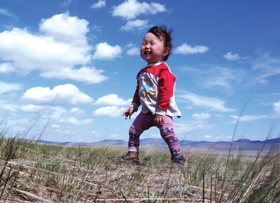 "I dreamt of a movie theater audience that would applaud because a baby would stand on their own two feet," says Chabat, who is all for audience participation. "The audience can shout, speak, comment, or laugh if they'd like," Chabat says. "If you're very polite and don't want to talk during the movie, you can engage in speaking about it afterwards. Babies is not a passive movie; it's an active movie."
It's also a joyful movie, full of bouncy music and milestone moments. "We went with families [who were] welcoming their babies with love," Chabat says of selecting the film's stars.
"What happens between parent and child is so crucial, and I hope our film reminds people of that," Balmés says. "Sometimes, with life happening, you can get a little lazy in developing a real relationship with your kids. I myself have. I hope Babies shows that no matter what their conditions are, wherever they live, these babies grow up happy as long as they are loved, and that this is universal."
Babies premieres in select theaters May 7. Rated PG for cultural and maternal nudity. For more information on the film, visit www.filminfocus.com/focusfeatures/film/babies. To see the trailer, visit www.filminfocus.com/video/babies_the_trailer.