There are many good reasons to make your own fresh, homemade baby food. They include: promoting eating organically, providing a broader variety of food choices, controlling what your baby eats, meeting special dietary requirements and needing more healthy options.  And you can take pride in preparing the food yourself.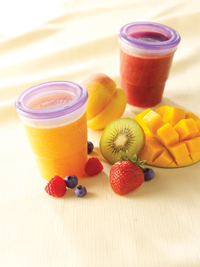 Following are easy tips on how to make and store your own baby food:


• Always select the freshest, highest quality fruits and vegetables, as they will have the highest nutrition content. Local farmers' markets are a great place to find produce during peak season. 


• Wash, chop and cook (using microwaving or steaming methods) the vegetables or fruits you want to use. 


• Blend cooked veggies and fruits with liquids in blender or food processor until pureed. 


• Ladle the puree into "freezer safe" jars.  


• Leave 1/2 inch headspace between the top of the food puree and the rim of the jar. This space allows for the upward and outward expansion of the food during the freezing process.  


• Run a spatula between the food puree and side of the jar to remove any air bubbles or pockets. This will allow you to fit more in the jar and produce the highest quality end product.  
• Apply the cap to the jar. When using glass jars, you may want to use plastic storage caps, which are great when freezing.  


• Label each jar or storage container with the name of the food puree and the date the food was prepared before freezing.  Use a permanent marker when labeling. 


• Store in the freezer at or below 0°F for up to two months. Freezing is the only recommended preserving method for longer-term storage of homemade baby food. Home canning is not a recommended method because pureed foods are too thick for proper heat penetration.  


• Thaw in the refrigerator before use. 
LAUREN DEVINE is a representative from Ball test kitchens.  Ball makes two reusable options for freezer storage: Ball Regular Mouth (4 oz) Quilted Crystal Glass Jelly Preserving Jars and Ball Plastic (8 oz) Freezer Jars. The glass jars are perfect for individual portions; the plastic ones have twist-on lids to prevent spills and stack on top of one another for efficient storage.