Whatever your child's age - whether you've got boys, girls, or both - you know that what they'll be wearing is part of the fun of heading back to school. We've asked those in the biz to fill us in on what's hot this season, from head to toe. Here's what they had to say:

"The trends we are noticing the most in kids' footwear are: co-branding (New Balance/Peanuts, Reebok/Spiderman, Adidas/Loony Tunes), as well as alternative closures (it's not just traditional tie anymore - it's bungee, Velcro, etc). We are very excited about our co-branded collection with Peanuts. It's a great collaboration of two global brands that have a strong history and a heritage of being trusted by moms."
- Lisa Mahoney, associate integrated marketing manager for New Balance Kids; available at www.finishline.com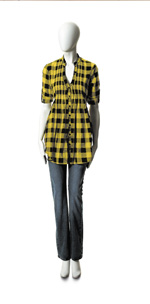 "Plaids are becoming an important decorative pattern for the back-to-school season in both boys' and girls' apparel. This prep school look has been updated by infusing pops of bright purples and yellows, and being paired with motorcycle jackets and skinny denim."
- Russell Orlando, Macy's Young Contemporary fashion director; available at www.macys.com
"Bright, bold colors and fun prints will be very in for the upcoming school season. For both preschoolers and big sisters, Simple has added rich purples, pinks, and greens, and two new styles featuring floral prints. We also know that youngsters

heading off to school like to show how big they are by doing things all by themselves. So we've added special features like toggle laces so that toddlers can easily get their shoes on and off, and we've also worked with eco-certified, washable suede so that these shoes can be thrown right into the washing machine in the event of a spill."
- DiBlasio, spokesperson for Simple Shoes; available at www.simpleshoes.com

"Eco-fashion is the most upcoming trend in fashion. Consumers want to make their purchases special, unique, and most of all, ones where they can make a difference. You can make beautiful, fashion-forward clothing that supports fair trade practices and is made from fibers that are all organic and natural. This trend is only going to be stronger as many major fashion companies are moving towards organic fibers."
- Neha Gupta, vice president and head designer, Sama Baby; available at www.samababy.com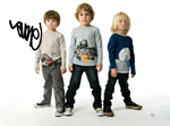 "We were one of the first companies to make bold graphics on kids' tees, which quickly became a huge trend. Now we have taken this to the next level, working with artist Avone to make our clothes an artistic palette of self-expression - bold graphics with true meaning to us."
- Harald and Lynn Husum, founders, Appaman; available at www.appaman.com
"At Oeuf, we don't follow the trends. Our idea is to dress children as children and not small grownups, and to make clothes that are not just pretty but also synonymous with quality and practicality - heirloom quality clothes that are hand-me-downs in the making."
- Sophie Demenge, co-founder, Oeuf; available at www.oeufnyc.com