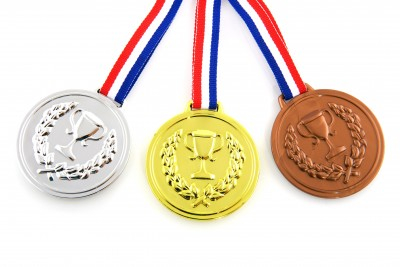 BALTIMORE & CHARLOTTE, N.C. - Bank of America, proud sponsor of Special Olympics for more than three decades, today announced a three-year $1 million contribution to support Special Olympics, a global organization that provides year-round sports training and athletic competition for people with intellectual disabilities.
To kick off its new partnership, Bank of America will once again sponsor the Special Olympics Team USA delegation as they prepare for the World Summer Games in Athens, Greece. More than 315 Special Olympics Team USA athletes and more than 125 coaches will depart from Baltimore and travel to Athens for the Games (June 25-July 4) to compete among more than 7,000 athletes from around the world.
In addition to supporting Special Olympics athletes on their journey to Athens, the bank's 2011 contribution, made through the Bank of America Charitable Foundation, will also support the Healthy Athletes program at the World Games. This important non-sports program is designed to improve athletes' health and fitness in order to enhance their ability to train and compete in Special Olympics. Special Olympics athletes from nearly 170 countries in all regions around the world will have the opportunity to receive free health examinations and health-related products, such as prescription eyewear and hearing aids, along with advice to help them adopt good living habits and improve their own health situation.
"Bank of America is proud to provide Special Olympics Team USA athletes with the opportunity to demonstrate their outstanding accomplishments while learning from competitors from across the globe," said Anne Finucane, Global Strategy and Marketing officer and chair of the Bank of America Charitable Foundation. "We are honored to partner with Special Olympics and support the athletes and coaches as they prepare for a memorable and healthy experience at the World Summer Games in Athens."
The Bank of America Charitable Foundation has partnered with the Special Olympics movement and its mission by sponsoring Special Olympics Team USA and providing a unique combination of financial and volunteer resources to create opportunities that help recognize the value and unique gifts of people with intellectual disabilities.
Through the bank's partnership, the foundation has provided nearly $7 million in financial support to Special Olympics to help people with disabilities pursue their goals. In 2010 alone, employees volunteered more than 5,000 hours to support Special Olympics and their athletes in local communities across the United States.
"We are truly grateful to Bank of America for their support of our upcoming World Games," said Timothy Shriver, chairman and chief executive officer of Special Olympics. "Their support will not only help our Special Olympics Team USA athletes to compete in Greece, but also provide world-class health care to this medically underserved population."
Article courtesy of Business Wire.
For more articles like this one, check out these suggestions from NYMetro Parents:
How to Choose a Camp for Children with Special Needs
How to Help Children with Special Needs Engage in Imaginary Play