New York City public school students got a glimpse of the "magic" behind Broadway's "Mamma Mia!" during a behind-the-scenes program hosted by Inside Broadway.
The Winter Garden Theatre acted as a classroom on June 14 when several New York City public school students got the chance to learn about what goes on behind the scenes of a Broadway show. The children enjoyed several songs from the popular musical Mamma Mia! and got an exclusive look into what happens backstage to make the whole show come together. It was all part of a workshop called Creating the Magic presented by Inside Broadway, a nonprofit organization wrapping up its 30th anniversary year. Inside Broadway reaches 30,000 children a year, giving young students who are interested in theater a way to learn about all aspects of the industry.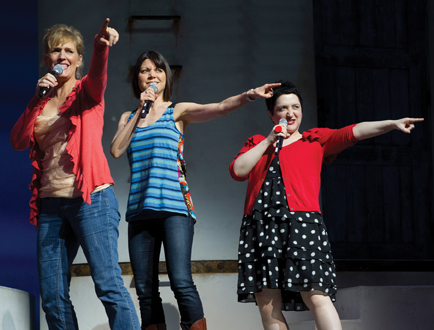 Actors Lauren Cohn, Stacia Fernandez, and Jennifer Noth performed "Dancing Queen" to open the workshop.
"The idea is to present a program that gives children a little bit of understanding about the various people who work at a Broadway theater, because the children think that its mainly just the actors on the stage, but actually there is a whole army of people behind the actors making it all possible," says Michael Presser, executive director of Inside Broadway.
The program began with actors Lauren Cohn, Stacia Fernandez, and Jennifer Noth performing the famous tune "Dancing Queen" by ABBA. The students also clapped and sang along to other classic ABBA songs like "SOS," "Lay All Your Love," and "Waterloo," performed by Timothy Booth, Felicity Claire, and Zak Resnick. After each song, the cast members paused to discuss what part they play in the show, how they got their start in theater, and what steps it takes to realize a Broadway dream.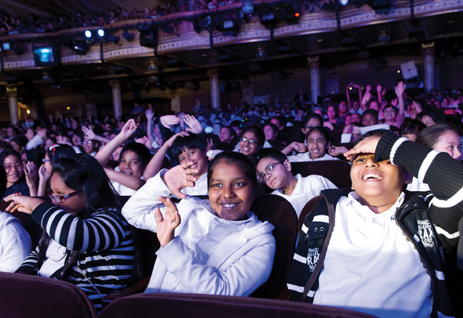 Kids in the audience shielded their eyes in delight as the show's stage manager put on a colorful light show.
Next, Andy Felton, the production's stage manager, impressed the children with light and sound demonstrations, introduced the band and crew, and had the students yell "Abbacadabra!" in order to "magically" disassemble the stage before their eyes.
The students got a chance to ask the actors and crew questions during the Q&A part of the program. They wanted to know how long it takes to get ready for a show, what happens when a cast member gets sick, and how the crew members got their start in theater. One young aspiring actress, a seventh-grader named Keira from Brooklyn's Marine Park Junior High School, asked Felton how the crew moved the different parts of the stage during the show (Felton admitted he used cues, not magic).
"I love the music and the play so much…I loved it all!" Kiera said after the workshop. "I think I would want to be on Broadway someday, doing musicals like this."