It's "football" to the rest of the world, but no matter what you call it, soccer is the most popular international sport for many reasons. Soccer is a great sport for kids because it can be played in any season, promotes teamwork, and nurtures abstract thinking. Read on to learn about the benefits of kids playing soccer, Euro Cup 2012, and soccer related fundraising!
It's about more than just a scoring goal. It's about more than dirt and grass caked all over new cleats and smeared on elbows (though, what young athlete doesn't see the appeal in that?). Soccer in America is becoming a cultural staple. The sport can be traced back to 2500 B.C. China where it was initially used to train soldiers. Since then, the basic principle of the sport—two teams aiming to kick a ball into their respective goal nets—has remained relatively the same.
Soccer even seems to transcend seasons these days, with schools and community leagues playing year-round, many with spring seasons supplementing the traditional fall one, indoor soccer played during colder months, and summer camps integrating the sport heavily into their programming. So what is it about soccer that's so appealing? What makes it an ideal sport for kids to get behind? Beyond the more obvious on-field benefits, soccer can be transformative, from classrooms to social situations—there's something about the sport that inspires.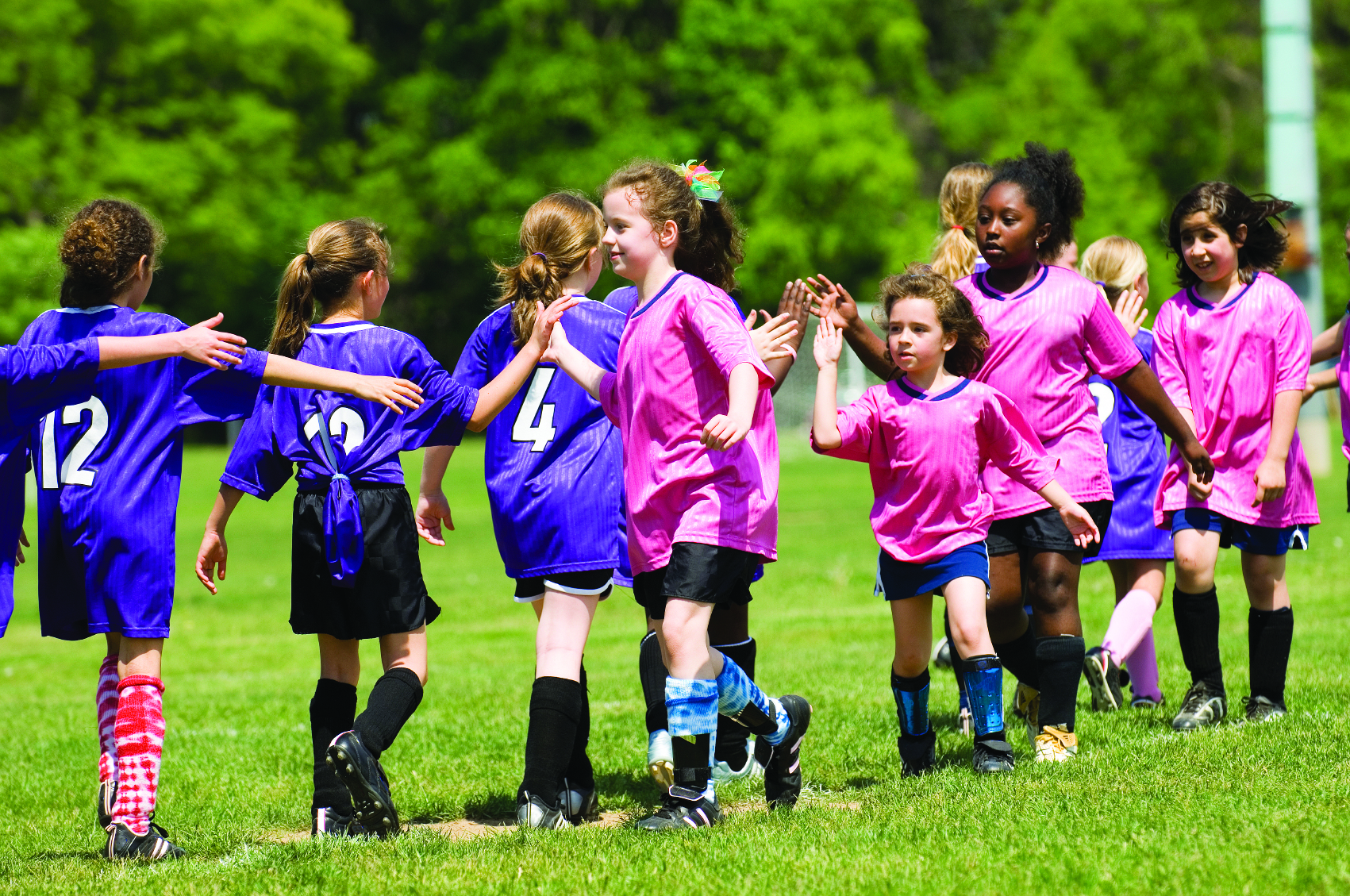 More than Just Kicking a Ball Around
Actively participating in soccer for competition and recreation develops leadership skills in children. A former professional player in his native Argentina, Coach Fher, owner of New York's Soccer by Coach Fher, says, "It's about more than teaching soccer for me…Players learn to protect themselves, but also learn to share and work together—lessons that extend beyond soccer into other parts of life."
Teamwork is a big gain for kids who play soccer. You have to leave your ego at home and work with your team as a unit to achieve success. Coach Fher says learning to protect yourself is a major component of the game, and through learning self-protection comes a heightened awareness of your fellow teammates. Sure, kids want to score a major goal, but it's the small steps of working with a fellow player to move the ball down the field that results in the biggest success for children. Being part of an important play that ends in a goal will instill a sense of pride and remind each child that he or she didn't do it alone.
The New York Times reported in April on a new study that indicates that soccer players, particularly stronger players, have superior executive functions, the brain processes responsible for planning and abstract thinking. The study's lead author, Predrag Petrovic, a neuroscientist at the Karolinska Institute in Sweden, calls it "game intelligence" and suggests that there is a two-way correlation: better players are blessed with strong executive functioning, and executive functioning can be improved through training. According to the study (see the Public Library of Science, plos.org, for a more in-depth look): "A good team player...must be able to quickly adapt, change strategy, and inhibit responses." Again, these are all assets off the playing field as much as on it.
Soccer also teaches kids the importance of coping with loss in a mature manner. Kids can't win every game their team plays, no matter how much hard work, sweat, and passion they put into each kick. It is important to remind your kids that a loss doesn't mean they played poorly, and they can still be proud of the work they put out on the field. According to American Youth Soccer Organization, the best way to help a child to achieve goals and reduce the natural fear of failure is through positive reinforcement. AYSO stresses the importance of a "coaches code" that includes an everybody-plays policy, good sportsmanship, positive coaching, and a focus on player development, not winning. As exciting as a win for your kid's team can be, the value of learning to handle loss with respect and admiration for fellow friends and players is priceless.


Run, Run, Run!
In addition to the emotional and psychological advantages of competitive team sports, playing soccer largely contributes to promoting a healthy lifestyle for kids and teens. Think of it as a fun workout—cardio and strength training without the dread. When kids can exercise together while playing a game, they're more encouraged to be active as a group and forget about the "work" in a workout. On the AYSO website (ayso.org), videos showcase young players explaining why they love soccer—and the most common exclamations are "It's fun!" and "I love running around!" No doubt soccer is nonstop action, giving players the chance to run, while building endurance in the process.


Forget "Soccer Moms"—It's About Family
Soccer can also positively impact a family dynamic. Weekdays can be hectic, balancing school, work, after-school programs. Soccer matches often occur on the weekends, relieving parents from strenuous work schedules. Many parents who have more than one child find that enrolling them all in soccer gives the family a wonderful excuse to spend time together outdoors, cheering everyone on—not to mention that siblings make great practice partners and can provide a healthy dose of moral support when a brother or sister's team loses. Some leagues encourage parents to act as coaches or assistant coaches, furthering the bonding and involvement with their child.
Looking to get involved? Coach Fher recommends searching for smaller leagues that will give kids more time to shine on the field, which will also encourage shy ones to come out of their shells.
Euro Cup 2012
Kick off the excitement with Super Soccer Stars.
Super Soccer Stars, a soccer program with multiple locations in New York City, Westchester, Connecticut, and New Jersey, is taking the hugely popular Euro Cup, which occurs every four years, as seriously as the Europeans, structuring their summer camp programs around the tournament.
"We're super-excited to watch the kids experience the Euro Cup and learn about it," says Dean Simpson, director of coaching at Super Soccer Stars. "People get really excited, and it makes them want to keep playing."
The camp program will be intense, with different activities offered every day of every week. The program is for kids ages 2½-12, and will run all summer. Kids will "visit" a different European country each day, and will learn about their style of soccer play as well as past and present players. They will also learn basics beyond the realm of soccer such as each country's capital city, how to say "hello" and count in the country's native language, what the country is famous for, and what foods the people who live there eat. The curriculum focuses on learning different skills at different levels, soccer trivia, team building, and a thorough understanding and following of Euro Cup 2012.
"I think for a lot of people, particularly the kids ages 6 years and younger, the Euro Cup is something they're not aware of…but as soon as we tell them about it, they'll be very tuned in," Simpson says. He's confident that everyone will be excited about the tournament once they learn about it: "I know everyone will want to be a part of this experience," he says.
Super Soccer Stars' Summer Euro Cup curriculum kicks off on June 11. It is offered at all Super Soccer Stars locations and will be featured in all Super Soccer Stars programs, including Indoor Mini Camps, Fun in the Sun Camp, Kick It Camp, and the outdoor drop-in classes. For more information and to enroll in any summer program, visit supersoccerstars.com.