The Berenstain Bears will give Bronx Zoo visitors a sneak peek of their new musical during the zoo's Animal Tales Extravaganza festivities this June.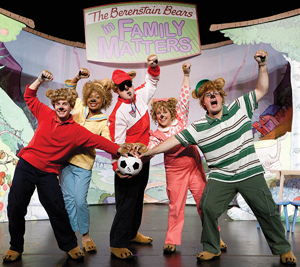 Need an excuse to take a trip to the Bronx Zoo? Wish granted. Just as the weather warms up every year, the zoo kicks its family-friendly programming up a notch with Animal Tales Extravaganza. On weekends throughout the month, your visit with the zoo's furry, slimy, and feathery friends will be complemented by a full schedule of animal-themed musical theater, character parades and meet and greets, author readings, craft activities, and even a few yoga classes.
A highlight of the activities takes place on June 18-19, when visitors will be treated to a mainstage performance by the Berenstain Bears in Family Matters: The Musical (11:30am, 1:30pm, and 3:30pm). Get a glimpse of the Bears' new show - featuring all the memorable life lessons and colorful characters from the book series - before it hits Manhattan on June 25 for a two-month run at the Manhattan Movement and Arts Center. Visitors to the zoo that weekend will also have the chance to meet the Bears (12pm and 2pm) and enjoy a reading by Mike Berenstain (1pm), son of the Bears' creators, Stan and Jan Berenstain.
Check out www.bronxzoo.com/animal-tales for a complete schedule of animal-tastic events.
Details
What: Animal Tales Extravaganza
Where: The Wildlife Conservation Society's Bronx Zoo, 2300 Southern Boulevard, Bronx
When: Weekends in June
How much: Zoo admission: $16; $14 seniors; $12 ages 3-12 (online discounts available)
For more information: 718-220-5100
Also see: Manhattan Family Activities: Top Picks for June
Our Online Calendar, for even more upcoming family events in the NYC area