We asked parenting experts on Long Island how new dads and fathers-to-be can overcome their anxiety about being a parent. Read on to benefit from their wisdom.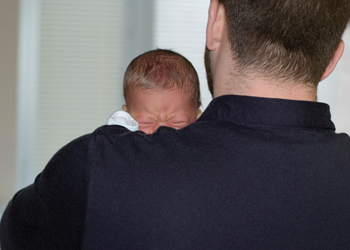 So many parents recount stories of driving home from the hospital with their first newborn...going five miles per hour. Ah, the responsibility of it all - for that teeny-tiny living creature that you made! Parenthood doesn't come with a handbook - rather, these days it comes with a gazillion websites and must-have tomes (often with conflicting advice) that are sometimes so daunting they go unread on the bedside table until the baby is born - only to gather more dust as mom and dad are now too tired and in the thick of it.
And the worries of fathers-to-be can be subtly different from those of their female partners. "Prospective dads have valid feelings, hopes, and fears about protecting their family on all levels," says Rich Esposito, a family counselor in Cortlandt Manor. Men have been hardwired over time to adopt the role of provider, and bringing a child into the mix ups the ante. "Everyone imagines living in a world of family values, station wagons, and suburban homes with white picket fences. We see nostalgic Norman Rockwell posters," he says. "But the reality in today's society is a rising unemployment rate that especially affects men. They may face financial insecurity, the pressure of holding a job, and healthcare concerns."
How to allay the anxiety? Remember: Becoming a parent is an exciting time, so relish it - and be assured that all of the things that you are worried about are things that every new parent worries about. For more specific advice, we asked local experts:
What is your best advice for a nervous new dad about to head home with baby?
"It is natural for all parents, not just dads, to feel nervous coming home with a tiny newborn. The feeling of responsibility for this new life can often be overwhelming. And more than one parent wonders where 'the manual' is once they get home. However, it is important for dads to be involved right from the beginning and not just to be supportive of the mother. Baby care helps you learn more about your baby. It encourages the bonding and connection that is so crucial for the baby to thrive every time you hold, change, bathe, dress, and play with your baby. Every interaction helps you to 'read' your baby and learn what is soothing, stimulating, enjoyable, or upsetting and helps to build up the baby's trust in you. This information will be invaluable as your baby grows and becomes more responsive. So thumb through a few of those baby books with tips for handling those early days, speak to friends who have been through it already, and work with your partner to boost your confidence. Remember that practice makes perfect - just don't put off getting involved right from the start."
- Karen Horowitz, director, Parenting Resource Network, Friedberg JCC, Oceanside, NY
"My advice would be to read and ask questions beforehand. Visit friends and relatives who have small children so you can get accustomed to them. Most important, I'd say relax. Literally millions of dads have done this before you with the same anxiety. You might also want to hire a Baby Nurse to ease the transition and train you on newborn care and help get the baby on a routine."
- Selena Fass, owner, Absolute Best Care Long Island
"A new dad is so special and is more accepted into the role of parenting today than years ago. However, often there is still a persistent feeling that the child and mother are a unit, with the father an appendage at worst or a helper at best. Couples should be aware of the dangers of this triangle, balancing it by including the dad as part of the workings of keeping the triangle from tilting. New moms are fragile, scared, and insecure - however, new fathers are the same, and generally with less preparation. So it's one for all and all for one, since that will keep the boat afloat and baby happy! A happy side effect: The couple feels like a working partnership, increasing value and appreciation for each other, and creating a more loving, harmonious home."
- Doris M. Aptekar, Ph.D., LMHC, psychotherapist, school psychologist, certified teacher, serving Nassau, Suffolk, and Queens
"Congrats! It is perfectly normal to be nervous! The best thing you can do for your child is to hold them close, convey your love to them in word and deed, and seek the wisdom of seasoned dads who have 'been there, done that.' And a nice bouquet of flowers for mom is a good idea too!"
- Nicole Baker, L.M.H.C., N.C.C., executive director, Boro Pregnancy Counseling Center, Bayside, NY
Also see: More advice for nervous new dads
Our Ask the Experts section, for practical parenting tips from experts in the New York metro area