The Fred Rogers Company, producers of "Mister Rogers' Neighborhood," has published a 2011 top 10 list of books for babies under 18 months old.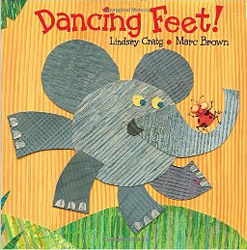 For the twelfth year, a committee of librarians, teachers, early childhood experts, and parents has developed a list of the best books for babies. The books below were ranked according to several qualifications, including age-appropriate subject matter, uncluttered illustrations, easy physical manipulation, durability, design, and cultural authenticity.

All books were published in 2010 and are listed alphabetically along with comments from the selection committee:
1. Baby Baby Baby! by Marilyn Janovitz (Jabberwocky) - A loving family catalogs all the fun things their smiling baby can do-from clapping and crawling to splashing in the tub and kissing good night.
2. Dancing Feet by Lindsey Craig, Illustrated by Marc Brown (Knopf Books for Young Readers) - Textured collage illustrations show a variety of animals stomping, creeping and clapping their way through this rhyming action tale.

3. Fiesta Babies by Carmen Tafolla, Illustrated by Amy Cordova (Candlewick) - Bold colors amplify the festive fun in this rhyming story about babies and toddlers enjoying a neighborhood celebration.

4. Hip Hop by Catherine Hnatov (Star Bright Books) - High contrast black and white images alternate with simple, brightly colored pictures of familiar animals, highlighting their typical sounds and movements.

5. I Like Fruit by Lorena Siminovich (Templar) - Unusual textures and vivid colors combine to create clear pictures of tasty treats in this sturdy board book.

6. One Pup's Up by Marsha Wilson Chall, Illustrated by Henry Cole (Margaret K. McElderry) - Feisty puppies tumble and frolic across the pages of this charming picture book that features energetic, upbeat descriptions and enjoyable word play.

7. Pocketful of Posies by Salley Mayor (Houghton Mifflin) - Mavor uses intricate needlework to create whimsical, detailed illustrations for a wide variety of rhymes, making this an appealing collection for families even if they already own one (or more) Mother Goose collections.

8. Sleepy, Oh So Sleepy by Denise Fleming (Henry Holt and Co.) - Distinctive illustrations in warm, rich colors accompany rhythmic, repetitive words designed to lull listeners into sweet sleep.
9. Switching on the Moon, Compiled by Jane Yolen and Andrew Fusek Peters, Illustrated by G. Brian Karas (Candlewick) - Perfect for sharing at bedtime, the beautifully illustrated poems in this collection are sure to become family favorites.

10. Tuck Me In! by Dean Hacohen, Illustrated by Sherry Scharschmidt (Candlewick Beach Lane Books) - Young listeners can participate in this soothing bed-time ritual, turning decorated half-pages to cozily cover a cast of baby animals.