More than 30 miles of diverse, scenic hiking trails exist in NYC - do you know where?
Answer: Staten Island. Yup, if you're looking for a new hiking option, we suggest you and your family hop the iconic ferry to Staten Island. Known as the Greenbelt, the area has about 30 miles of trails and options for hikers of all abilities.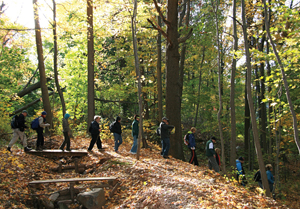 Best Trail for Younger Kids: Nature Center Trail
This 1-mile loop meanders behind the Greenbelt Nature Center (hence the name), occasionally veering into the woods. Flat terrain and a clearly marked path make it ideal for even the littlest novice hikers. Stop at the Nature Center to pick up a trail map or participate in an activity or class with an underlying nature theme.
Best Trail for Making a Midway Pit Stop: White Trail
Although this easy-to-moderate hike stretches for 7.6 miles, the Greenbelt Nature Center marks the halfway point and provides a convenient resting spot for weary legs. Kids who need a break from the hike can learn about the environment and experience nature through the exhibits on Greenbelt history, flora and fauna, and more at the Nature Center. For those who want to see the sights, the trail ventures through Egbertville Ravine, Heyerdahl Hill, and Buck's Hollow.
Best Trail for a Challenge: Yellow Trail
On this hilly 8-miler, it's best to leave the tots at home. One of the more rugged trails, it includes a climb up Todt Hill before walking parallel to the Blue Trail. If one upward climb wasn't enough, Moses' Mountain stands off the path near High Rock Park and Rockland Avenue.
Best Trail for Bringing Grandma: Multipurpose Trail
Walker-, wheelchair-, and stroller-friendly, this paved 2.6-mile option boasts wide walkways and a crushed gravel surface. Perfect for anyone older who wants to stay active in an outdoor setting without worrying about tripping over protruding tree roots or uneven ground, this path is the only one where biking is permitted. For more serious bikers or runners training for lengthy distances, the trail branches off at several points and intersects with the Blue and Yellow trails.
Best Trail for Inspiring "Aha!" Moments: Blue Trail
Ideal for older kids and families who aren't hiking newbies, this one offers inclines and elevations in the woods that overlook the busiest parts of Staten Island. The contrast becomes clear when families view the same urbanized areas and traffic-dense roads from a spot nestled in the woods. Known to spark moments of "so-this-is-what-the-island-used-to-look-like," this 12.3-mile trek also brushes against the crest of Todt Hill, the highest point in the boroughs.
Best Option for Environmental Enthusiasts: Guided Hikes
Parents who strive to combine family fun with educational opportunities should inquire about the naturalist-led hikes at the Greenbelt Conservatory, which focus on informing participants about the history and ecology of the area.
Best Trail for City Slickers: Red Trail
For beginner trekkers whose sense of direction pretty much begins and ends with taking the L from Brooklyn to Manhattan, fear not - there is a trail for you. The Red Trail, which hosts mostly flat terrain, consists of a 4-mile loop path that any proud urbanite can navigate without fail. If four miles doesn't seem like enough, the Red Trail breaks off downhill to Historic Richmond Town where hikers can get out of the woods and walk around the village for a while.
For more information on the Greenbelt Conservatory or hiking the Greenbelt, visit www.sigreenbelt.org.
If you're looking for a more relaxing summertime activity, check out our Family's Guide to Fishing in the NYC Area.

Also see: A Parent's Guide to Summer in the NYC Area
Hiking and nature trails near NYC and in Upstate New York