Because autism spectrum disorder is a disability that impacts social skills so dramatically, motor skills deficits tend to get short shrift. But recent research shows that kids with ASD who have better motor skills are also better at communicating.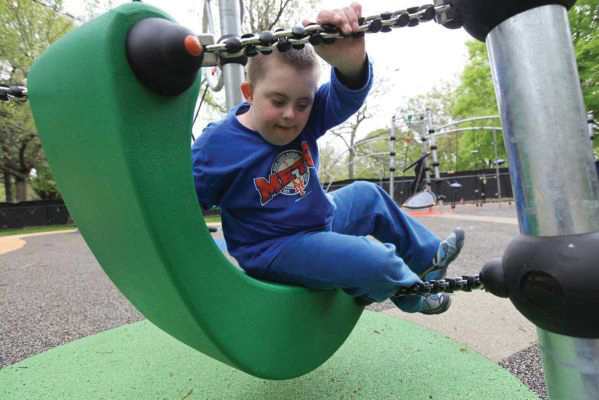 Parents whose child has been diagnosed as having an autism spectrum disorder are immediately flooded with fears. Will the child be able to communicate with others? Will the child be able to interact with others? Why does the child display an unusual attachment to objects or get upset when routines change?
Parents may immediately think of speech therapy appointments and behavioral training. Perhaps they envision taking their child to physical therapy or doctors' appointments or filling prescriptions for medication to combat depression or obsessive-compulsive behaviors.
In focusing on social and emotional deficits, parents, and many physicians, inadvertently treat motor skill development as an afterthought. That's changing.
Focusing On The "Whole" Child
A recent study, published in the journal Research in Autism Spectrum Disorders, has found that children with ASD who have better motor skills are more adept at socializing and communicating. Children who tested higher for motor skills were also better at "daily living skills" like talking, playing, walking, and requesting things from their parents.
"Physicians are increasingly recognizing the need to intervene on behalf of the 'whole' child with ASD and his or her family," says Somer L. Bishop, assistant professor of psychology in psychiatry at the Center for Autism and the Developing Brain at Weill Cornell Medical College, who is familiar with the study. "For some children with ASD, this includes addressing impairments in motor skills."
For many, though, focus on social and communication skills takes top billing because it's those skills that are critical in making sure that the family continues to function in the best possible way. One of the secondary treatment areas may be improving motor skills.
"The good news is that some of the newer comprehensive intervention models, such as the Early Start Denver Model, simultaneously target the child's skills across multiple areas of functioning, including social, communication, cognitive, and motor," Bishop says.
Body Awareness Builds Self Confidence
Many who work with children with ASD in the New York metro area have already seen the benefits of focusing on motor skills in combination with other developmental areas. Physical therapist Shirael Pollack, who owns Watch Me Grow, a sensory gym with two locations in Manhattan, understands the value of an integrated approach to treatment. At Watch Me Grow, children work with physical, occupational, and speech therapists.
Helping children with ASD refine their motor skills helps them improve their body awareness, making it easier for them to navigate their environment and appear less clumsy. Children can also work on skills such as running, climbing, or kicking a ball. Improving these skills helps children bolster their self-confidence and build social and communication skills that will help them participate in activities with other children on the playground or in other settings where they may have difficulty interacting and where even the tiniest differences in someone's behavior can be cause for teasing, says Evan Schermer, president at the Center for Social Enrichment and Educational Development in Stamford, CT.
"Children with difficulties with motor skills may be perceived as less popular by their peers and less likely to develop friendships," Schermer says. But working on motor skills doesn't have to be a time-intensive activity. Instead, it's easy to incorporate many of the skills on a daily basis.
Parents can set up craft tables to ensure that their child with ASD and siblings can work on motor skills together. Coloring, painting, and stringing beads can be fun for any child. Playing with sand art, play dough, pegboards, or assembling small models are also great indoor activities to build fine motor skills, Schermer suggests.
For outdoor activities, Pollack recommends activities such as walking, running, or riding a bike. There are also organized sports like soccer, basketball, baseball or football. During the winter, children who are looking for similar pursuits can try various dance classes, from jazz to ballet, or gymnastics to help the child build his or her gross motor skills.
Looking Forward
More research is needed to clarify the link between motor skills and adaptive behavior. "Motor skills are known to be associated with cognitive abilities," Bishop says. "Thus, this link may be at least partially explained by the fact that children with poor motor skills also had lower cognitive abilities, which, in turn, were related to lower adaptive behavior skills." Nonetheless, this study—and the daily work of many area experts—firmly suggests that impaired motor skills in many children with ASD may be associated with poorer adaptive behavior in the areas of communication and socialization.